Acers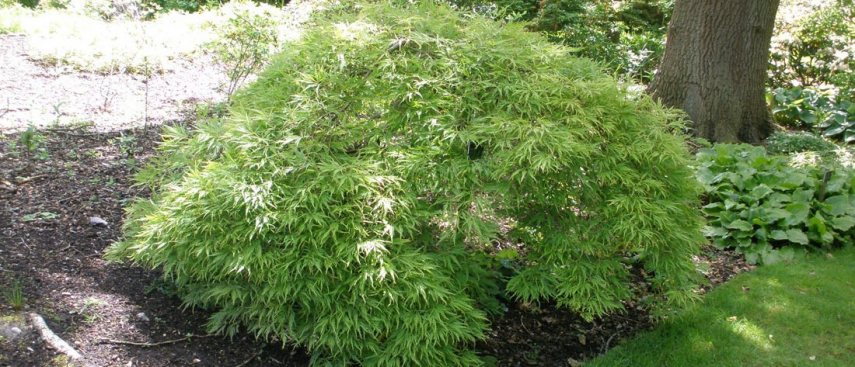 We offer a wide collection of Acers, or Japanese Maples, ranging from small shrubs with an umbrella habit to larger garden trees. All have lovely new foliage in the spring and fantastic autumn colour. The dissectum (cut-leaf) cultivars form the classic mushroom shape, but are typically less tolerant to wind. They require a more sheltered position, and may require staking vertically for 4-5 years to form the stem height you require.
---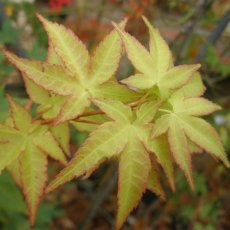 Acer palmatum 'Aureum'
Leaves suffused soft yellow, becoming golden yellow in the summer, with pinky edging. Colours best in full sun. A fast growing variety with an expected height in 10 years of 150cm.
Acer palmatum 'Dissectum'
(H5) Beautiful cut-leaf feathery mid green leaves, turning gold and orange in autumn. Rounded compact habit, perfect for small gardens, containers and courtyards. Takes sun or shade. Height 1.5-2.0m in 10 years. Best sheltered from cold winds.
---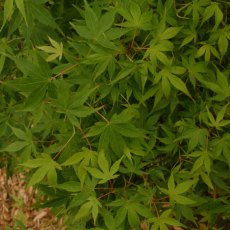 Acer palmatum 'Katsura' AGM
New foliage is orange coloured, and this persists on the edges of the leaves until late spring. Summer colour is bright yellow-green, followed by bright yellow and orange autumn tones. A very striking plant. Expected height is 200cm in 10 years.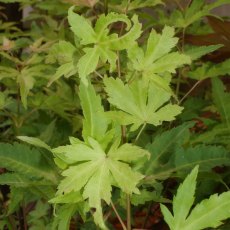 Acer palmatum 'Orange Dream' AGM
Large slender upright shrub with bright orange yellow foliage in the spring. Similar to Katsura, but with intense long lasting spring colour. Autumn colour of bright yellow gold. Expected height is 200cm in 10 years.
---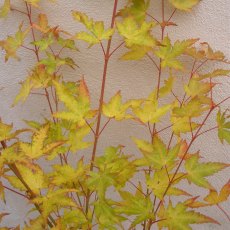 Acer palmatum 'Sango-kaku' (Senkaki) AGM
Previously known as Acer Senkaki. Bright green foliage is edged red as it emerges. Striking coral red bark, brightest on the young growth. Autumn colour of golden yellow-apricot. A popular cultivar which is well worth growing. Forms an upright tree with an expected height of 150cm in 10 years.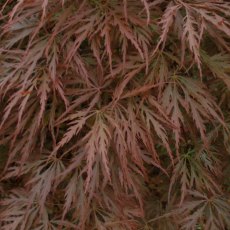 Acer palmatum dissectum 'Garnet' AGM
Red dissected leaves which hold their colour well through the summer. The best leaf colour occurs in a sunny location. Weeping habit, vigorous when young, which forming a mound shaped plant about 3 metres high at maturity. Red autumn colour.
---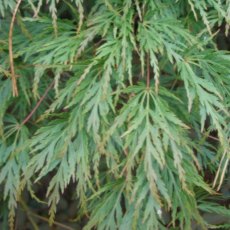 Acer palmatum dissectum 'Seiryu' AGM
Finely cut, bright green summer foliage. Spectacular autumn colours of yellow, suffused with orange and red. Strong growing when young, forming a neat small tree with an upright habit. Expected height is 150cm in 10 years.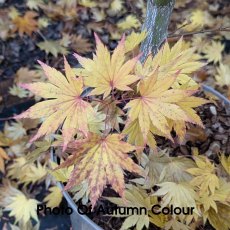 Acer shirasawanum 'Jordan'
New leaves appear a lovely pastel orange, turning to bright creamy yellow in summer, with red seeds that push up above the leaves. Provides a good splash of colour in the garden or containers. Hardy, with good sun tolerance. Height 125-150cm in 10 years. Best in well drained acid soil.