Acers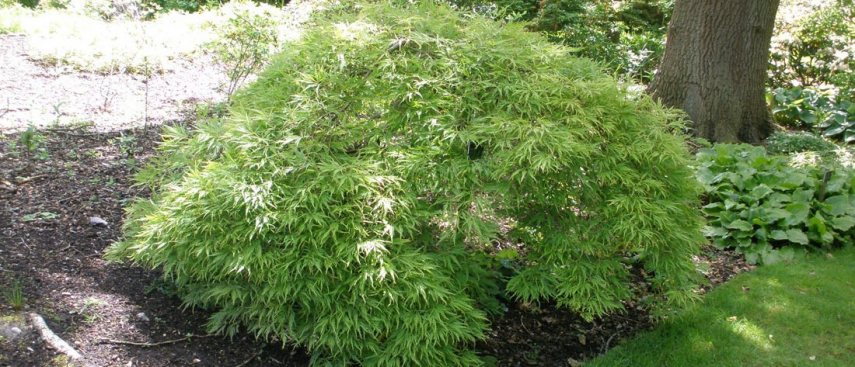 We offer a wide collection of Acers, or Japanese Maples, ranging from small shrubs with an umbrella habit to larger garden trees. All have lovely new foliage in the spring and fantastic autumn colour. The dissectum (cut-leaf) cultivars form the classic mushroom shape, but are typically less tolerant to wind. Acers require a more sheltered position out of the wind and away from full sun especially when young. They can be trained, and may require staking with a cane for 4-5 years to form the stem height you require.
---
Acer davidii 'Viper' (mindavi)
Due to the height of these plants (180-200cm), we are unable to send them in boxes. They can be collected direct from our nursery or delivered via a pallet delivery service (H5) (Snakebark Maple) A deciduous, upright form with white and green stained bark. Dark green foliage turns orange in autum. Clusters of flowers in spring followed by winged fruits that ripen to red-brown. Requires full sun/semi...
Acer palmatum 'Atropurpureum'
(H6) Deep purple leaves divided into about 7 lobes, and becoming red in autumn, on a small tree of bushy habit. Inconspicuous red-purple flowers in spring may be followed by winged, purple fruits. Best planted in a sheltered position.
---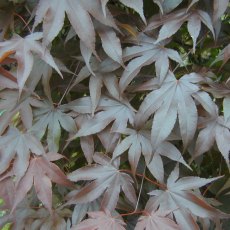 Acer palmatum 'Bloodgood' AGM
A strong growing, upright tree, with rich purple, palmate foliage which maintains its colour well all season. Bright red autumn colour. Expected height is 200cm in 10 years.
Acer palmatum 'Emerald Lace' AGM
Fine lacy yellow-green leaves in spring on weeping pendulous branches. Deepens to rich emerald green foliage in summer, followed by bright burgundy red colours in autumn. Height approximately 2-4 metres in 10 years.
---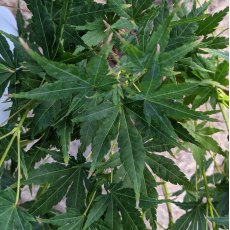 Acer palmatum 'Going Green'
(H6) Lime green leaves in spring, maturing to bright green, then turning orange and red in autumn. Green bark adds winter colour. Requires moist well drained soil in partial shade, although full sun can be tolerated if soil is reliably moist. Height 400-800cm in 10 years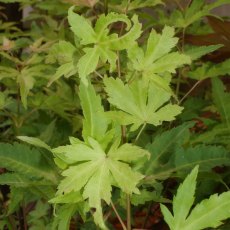 Acer palmatum 'Orange Dream' AGM
Large slender upright shrub with bright orange yellow foliage in the spring. Similar to Katsura, but with intense long lasting spring colour. Autumn colour of bright yellow gold. Expected height is 200cm in 10 years.
---
Acer palmatum 'Trompenburg' AGM
Deep purple foliage which curls downwards at the edges. Will take full sun without burning. Foliage slowly turns deep reddish green, and then a rich crimson in the autumn. A strong, fast growing small tree with an open habit. Named after the beautiful Trompenburg arboretum in Rotterdam. Expected height is 200cm in 10 years.
Acer palmatum 'Wilson's Pink Dwarf'
(H6) New leaves emerge bright pink in spring, maturing to bright green in summer and turning red, orange and yellow in autumn. A smaller finely branched shrub. Grow in moisture-retentive, well-drained soil in a sheltered position, ideally in light shade. Height 75-100cm in 10 years
---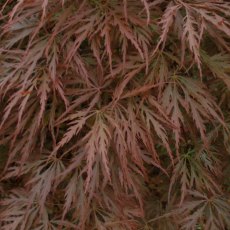 Acer palmatum dissectum 'Garnet' AGM
Red dissected leaves which hold their colour well through the summer. The best leaf colour occurs in a sunny location. Weeping habit, vigorous when young, which forming a mound shaped plant about 3 metres high at maturity. Red autumn colour.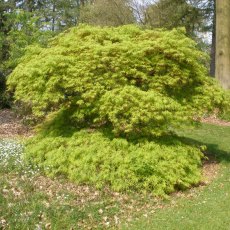 Acer palmatum dissectum 'Viridis'
Bright green foliage holds its colour well all summer, although it can burn in hot sun or wind. Orange and red autumn colours. Forms a dome shaped plant with a strongly cascading habit. Height of 100cm in 10 years.
---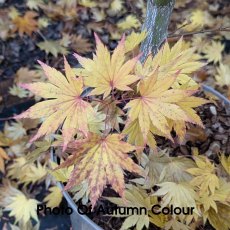 Acer shirasawanum 'Jordan'
New leaves appear a lovely pastel orange, turning to bright creamy yellow in summer, with red seeds that push up above the leaves. Provides a good splash of colour in the garden or containers. Hardy, with good sun tolerance. Height 125-150cm in 10 years. Best in well drained acid soil.