Deciduous Azaleas
Deciduous Azaleas make a dazzling display, particularly in yellows and oranges. They are tough and fast growing plants typically reaching 125-150cm (4'-5') in 10 years. This selection ranges from the discreet small flowered species and Ghents, to the bold large flowering Knaphill types. Many have the added value of scent and autumn colours. While most hybrids flower towards the end of May, our newest introductions greatly extend the season into late June and July.
Featured Products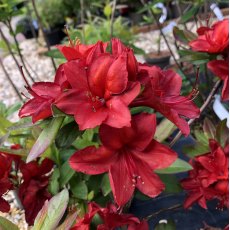 Deciduous Azalea Nabucco
(H6) Beautiful dark red flowers with a flare of vivid reddish orange, and contrasting yellow anthers. An excellent and very hardy introduction from Hachmann's Nursery in Northern Germany. Flowering in late May to early June. Height 150-175cm in 10 years. • Recommended for striking flowers.• Easy to grow.• Group: Deciduous Azalea.• Parentage: 'Betty Kelly' X 'Feuerwerk'.•...
£21.95
Deciduous Azalea Daviesii AGM
Pink buds open creamy, and then change to white flowers, with a yellow blotch. Beautifully scented, the flowers are up to 65mm across in May - June. Tough and lower growing than most deciduous azaleas. Good autumn leaf colour adds extra interest. Height 120-150cm in 10 years. Recommended for gorgeous scented flowers. Easy to grow. Group:Deciduous Azalea (Ghent hybrid). Parentage:...
£21.95
Deciduous Azalea Homebush AGM
Extremely attractive double deep carmine pink flowers in a ball-shaped pompom-like truss 30mm across. Flowering May - June this deciduous azalea has good autumn colour. Height 120-150cm in 10 years. Requires a fairly sunny position. Recommended for attractive flowers and autumn leaf colour. Easy to grow. Group:Deciduous Azalea (Knaphill hybrid). Parentage: unknown Hybridization date: pre 1950...
£21.95
---
---
---
---
---
---
---
---
---
---
---
---
---
---
---
---
---
---