Deciduous Azaleas
Deciduous Azaleas make a dazzling display, particularly in yellows and oranges. They are tough and fast growing plants typically reaching 125-150cm (4'-5') in 10 years. This selection ranges from the discreet small flowered species and Ghents, to the bold large flowering Knaphill types. Many have the added value of scent and autumn colours. While most hybrids flower towards the end of May, our newest introductions greatly extend the season into late June and July.
Featured Products
Deciduous Azalea Anneke
Large brilliant yellow flowers with vivid yellow spotting. The flowers are 80 to 100mm wide, 9 in each truss. Another of our favourites, this is a beautifully scented cultivar raised by Denny Pratt flowering in May-June. Height 140-160cm in 10 years. Requires a fairly sunny position. This plant was selected as outstanding by a well-known Dutch nurseryman, Fred de Jong, and named after his daughter...
£21.95
Deciduous Azalea Golden Eagle AGM
A very pretty flower 65 - 75mm across in a domed truss of 10 to 12 flowers that is a strong reddish orange with orange yellow mid-rib and a prominent vivid orange blotch. Flowering in May-June with good bright glossy green leaves. Good autumn leaf colour adds extra interest. Height 150cm in 10 years. Ideal for mixed borders. Easy to grow. Group:Deciduous Azalea (Knaphill hybrid). Parentage:...
£18.95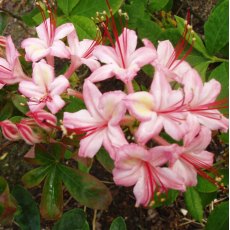 Deciduous Azalea Pink and Sweet
(H6) Delightful late flowering small mauvey-pink fragrant flowers in June and July. A very hardy plant from Eastern USA. Best in light dappled shade for long flowering. Height 120-150cm in 10 years.
£24.95
---
---
---
---
---
---
---
---
---
---
---