Deciduous Azaleas
Deciduous Azaleas make a dazzling display, particularly in yellows and oranges. They are tough and fast growing plants typically reaching 125-150cm (4'-5') in 10 years. This selection ranges from the discreet small flowered species and Ghents, to the bold large flowering Knaphill types. Many have the added value of scent and autumn colours. While most hybrids flower towards the end of May, our newest introductions greatly extend the season into late June and July.
Featured Products
Deciduous Azalea luteum
Absolutely stunning and still one of the most popular highly scented yellow azaleas. Flowering in May this deciduous azalea has striking autumn yellow and orange leaf colour. A must for every garden and one of our favourites. A lovely old species that has become naturalized in parts of the British Isles and was very important in the development of the Ghent hybrids. Height 120-150cm in 10 years. Some...
from £17.95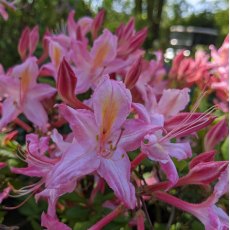 Deciduous Azalea Tower Beauty
(H6) An historic plant from Roza Stevenson at the famous Tower Court gardens with salmon pink scented flowers during May. An ideal azalea with a softer character, and billowing habit for light woodland locations. Height 125-150cm in 10 years.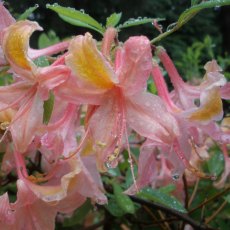 Deciduous Azalea Tower Dragon (Cote # 10)
Delicate salmon pink flowers with a delightful scent flowering in May - June. Height 140-160cm after 10 years. It does like a fairly sunny position. This plant was raised by J. B. Stevenson at Tower Court in Ascot. It is from the Cote Group of deciduous azaleas, bred by Stevenson. It was named by General Harrison after 'Dragon' one of his gun dogs, and 'Tower', his wife's former home at Tower Court. Recommended...
---
---
---
---
---
---
---
---
---
---