INKARHO Lime-tolerant Rhododendrons
These are the plants which we have featured in our recent RHS Chelsea Flower Show exhibits, with extensive reporting on the BBC Chelsea TV programme. Interest from new customers around the country has been exceptional, and gardeners have been delighted to learn that they can now grow their favourite plants on most garden soils.
The revolutionary new "Inkarho" lime tolerant rootstock is particularly recommended for growing Rhododendrons on neutral clay soils, up to pH7. This patented rootstock was developed from a Rhododendron growing in a German lime quarry, and has been the subject of an extensive 20 year breeding and testing programme. These plants are grown under licence in Germany, and enable choice hardy hybrids and yakushimanum varieties to be grafted on the rootstock and grown in a much wider range of soil types than ever before. They are hungry plants and require more feeding than other Rhododendrons to keep their foliage a healthy dark green. We recommend our own recipe Millais slow release fertilizer and plenty of good Ericaceous compost for best performance.
Please note that some of these plants are broader than they are in height, and that the specimen sizes (eg 90-100cm) are measured by the larger of the height or width.
Featured Products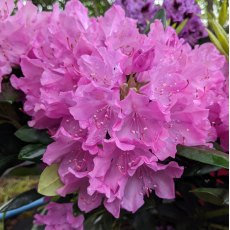 Rhododendron English Roseum INKARHO
Now available on the Inkarho rootstock! Attractive mauvey pink flowers in May-June on a very useful easy to grow plant. It tolerates heat and cold and is a dense and vigorous grower that can get very large. An ideal plant for hedging and screening. A reliable plant for difficult places. Height 180cm in 10 years.Plant with plenty of good ericaceous compost to aid establishment. Recommended for: Hedging/screening. Easy...
£31.95
Rhododendron Gomer Waterer AGM INKARHO
Now available on the Inkarho rootstock! Lovely rosy-lilac buds open to white flowers flushed mauve pink at the edges with a distinctive yellow-brown flare. This plant is a well proven older variety that flowers well in early June. It certainly ranks as one of our favourites and is ideal for hedging and screening. If you have a difficult position this is definitely the plant for you. Vigorous and tolerating...
£31.95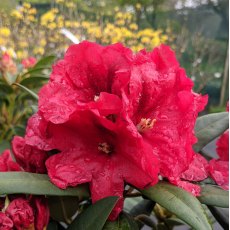 Rhododendron Rabatz INKARHO
Launched by us at Chelsea Flower Show 2011. Bright fiery red flowers with darker speckling, contrasting with pale anthers. Late May-June flowering. An attractive hybrid with wide funnel flowers. Height 150-180cm in 10 years. FINALIST IN RHS CHELSEA 2011 "PLANT OF THE YEAR"! We entered this into the stiff competition against all the best new plants of the Show, and were delighted that it was shortlisted...
£31.95
---
---
---
---
---
---
---
---
---
---
---
---
---
---
---
---