INKARHO Lime-tolerant Rhododendrons
These are the plants which we have featured in our recent RHS Chelsea Flower Show exhibits, with extensive reporting on the BBC Chelsea TV programme. Interest from new customers around the country has been exceptional, and gardeners have been delighted to learn that they can now grow their favourite plants on most garden soils.
The revolutionary new "Inkarho" lime tolerant rootstock is particularly recommended for growing Rhododendrons on neutral clay soils, up to pH7. This patented rootstock was developed from a Rhododendron growing in a German lime quarry, and has been the subject of an extensive 20 year breeding and testing programme. These plants are grown under licence in Germany, and enable choice hardy hybrids and yakushimanum varieties to be grafted on the rootstock and grown in a much wider range of soil types than ever before. They are hungry plants and require more feeding than other Rhododendrons to keep their foliage a healthy dark green. We recommend our own recipe Millais slow release fertilizer and plenty of good Ericaceous compost for best performance.
Please note that some of these plants are broader than they are in height, and that the specimen sizes (eg 90-100cm) are measured by the larger of the height or width.
Featured Products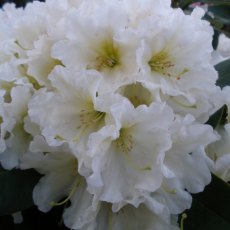 Rhododendron Dufthecke White INKARHO
Available on the Inkarho rootstock! Intense lilac in bud, opening to creamy-white flowers with a pale rose-lilac edging. The beautifully scented flowers change gracefully to icy white in April-May. It has nice glossy pale green leaves on a plant of neat compact growth. Height 125-150cm in 10 years.This one is ideal for hedging and screening. The German translation is fragrant hedge! Plant with plenty...
from £26.95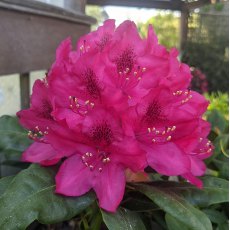 Rhododendron Nova Zembla INKARHO
Now available on the Inkarho rootstock! Wonderful dark red flowers with darker spotting during late May to early June. These can fade to deep pink in strong sun, so best planted in dappled shade to preserve the colour. Great dark green foliage on a sturdy upright plant. Good for hedging and screening. It is also heat and sun tolerant, and very hardy. Height 150-175cm in 10 years.Plant with plenty of...
£26.95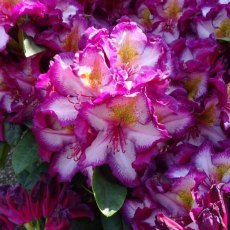 Rhodoendron Happydendron Pushy Purple INKARHO
New! (H5) Deep reddish purple in bud, opening to pale pink flowers with a prominent green yellow blotch, and feathering to deep mauvey pink edging to the flower. The overall effect is mauvey purple, but really it displays 3 separate and distinct colours. The reddish purple colour fades to mauvey purple, so there's more interest in the flower every day. Late May. An excellent and exclusive new variety...
£36.95
---
---
---
---
---
---
---
---
---
---
---
---
---
---
---
---
---