Gift Ideas
Plants make wonderful presents for any occasion, and here we list a few of our most popular gifts. If you can't see what you are looking for, you may like to type the recipient's name into the PLANT SEARCH box (above) which will show if we grow a plant containing that name. For example, type PETER, and Rhododendron Blue Peter will be found.
We dare you to give Dopey and Grumpy. They are both surprisingly popular!
Once you have selected your gifts, you can add a Gift Message at the Checkout, and we will include your message printed in a card. You may like to include any special dates, and we will arrange delivery as close as possible. (Delivery can be to your address or direct to the recipient, but sorry no weekend deliveries)
Why not make your gift more personal by choosing extra plants, feed, and secateurs from other sections of our website?
Featured Products
Rhododendron Christmas Cheer AGM
One of our favourite plants! This one is pink in bud, opening to pretty blush pink flowers that fade almost to white in a small truss. One of the first to flower in March. This variety used to be forced in the greenhouse and presented as a magnificent Christmas table decoration; hence its name! It also makes a lovely gift for anyone interested in their garden. A very dense and tough plant. Height 140-160cm...
£28.95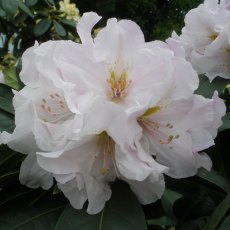 Rhododendron Eskimo
Mauve in bud and initially in flower, Eskimo soon changes to ice-white. We love this plant's white flowers with yellow-green spotting on the upper lobe and a slight lilac flush in centre. Flowering in late May to mid June this is a tough hybrid from Germany. Height 160cm in 10 years.Also known as Hachmann's Eskimo. Recommended for: tough and reliable. Easy to grow. Ideal position: Most garden...
£28.95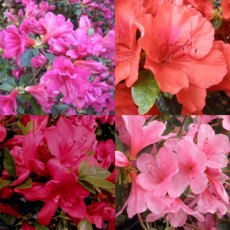 Amazing Evergreen Azalea Collection (5 x 2 litre)
Picture for guide only. We will select 5 complementary varieties. Here is a fantastic box deal of 5 choice Evergreen Azaleas that will grow to around 50-75cm in 10 years. These plants are in 2 litre pots and they are about 10-15cm now. They will soon grow to make a wonderful colourful addition to your garden. All these plants are in 2L pots and normally cost £9.95 each, giveing you a saving...
Was £49.75
Now £40.00
---
---
---
---
---
---
---
---
---