Standards
Standard Rhododendrons were popular during the first half of the last century, and now we are finding renewed interest. We grow a limited range of Rhododendrons and Azaleas as Standards, grown on a single straight stem to form a lollipop type head. There are various options for the heights of the stems, so please refer to the individual descriptions. These are ideal for patio pots or formal situations (and better looking than a Bay tree!). They require a good stake at the time of planting to prevent any wind damage.
---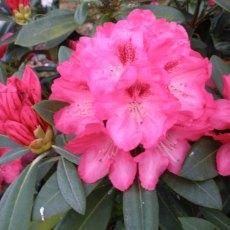 Rhododendron Sneezy AGM STANDARD
This plant has very pretty pink flowers with darker edges flowering in late May. One of the 'Seven Dwarfs' yakushimanum hybrids and has a vigorous upright growing habit. Size of head 80-100cm in 10 years. These Standards have a clean stem of about 80cm and have been top-work grafted at that height, with a lollipop-like head of trimmed branches and flower buds. Standards will always require staking...