Standards
Standard Rhododendrons were popular during the first half of the last century, and now we are finding renewed interest. We grow a limited range of Rhododendrons and Azaleas as Standards, grown on single straight stems. These are ideal for patio pots or formal situations (and better looking than a Bay tree!). They require a good stake at the time of planting to prevent any wind damage.
---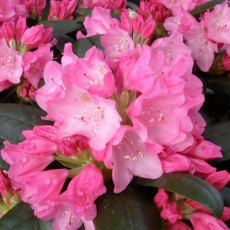 Rhododendron Kalinka STANDARD
(H7) Red in bud, opening to ruby pink flowers with ruffled darker edges. Fades pale rose pink with greenish yellow spots in May. Compact habit with dark shiny leaves. Head size 80cm in 10 years.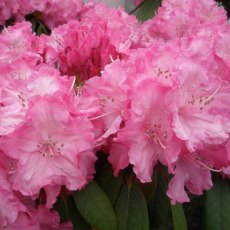 Rhododendron Polaris AGM STANDARD
This tough plant has red buds opening to ruby pink, ruffled flowers with a paler centre in May. It has good foliage and is sun and cold tolerant. These standards have a clear stem of about 60cm, with a lollipop head of foliage and flower on top. Currently the size of the well-branched head is about 30cm, and it will grow to around 80cm in 10 years. Standards will always require staking with a good...
---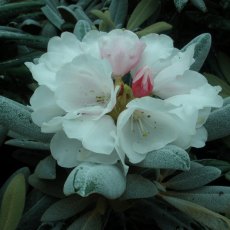 Rhododendron yakushimanum Koichiro Wada STANDARD
(H6) Pink in bud opening to delightful white bell shaped flowers in May that have the appearance of apple blossom. A really choice plant, R. yakushimanum Koichiro Wada has silvery new growth which turns dark glossy green, with dense brown indumentum underneath the leaf. There is a distinctive white covering (tomentum) on the top of the leaves. This choice variety has been grafted onto a straight...