Standards
Standard Rhododendrons were popular during the first half of the last century, and now we are finding renewed interest. We grow a limited range of Rhododendrons and Azaleas as Standards, grown on a single straight stem to form a lollipop type head. There are various options for the heights of the stems, so please refer to the individual descriptions. These are ideal for patio pots or formal situations (and better looking than a Bay tree!). They require a good stake at the time of planting to prevent any wind damage.
---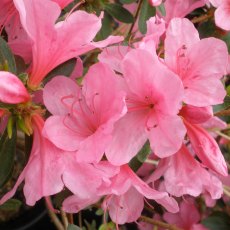 Evergreen Azalea Madame van Hecke STANDARD
A popular and reliable stunning profusion of small bright pink flowers. Flowering in early May, this is a very tough and easy growing plant that has an upright habit. These Standards have a clear stem of approximately 30cm, with a nice colourful head measuring approximately 15-20cm now. You can expect the head to measure 60-80cm in 10 years. The stem should always be supported with a cane or small...