Small Leaved Rhododendrons
Small Leaved Rhododendrons such as cinnabarina and triflora will grow 75 - 150 cm in 10 years often with an upright habit. Their softer foliage and stunning bell shaped flowers mix well with larger rhododendrons. We have selected a range to avoid powdery mildew, but they do benefit from being planted where air circulates freely.
---
Rhododendron Staccato
(H6) Deep rose pink double flowers in March,on a semi- evergreen upright plant. Leaves turn purple-red in Winter. very hardy up to -24. Height 1.5-1.75 meters in 10 years. Requires dappled shade and moist acid soil. • Recommended for striking early flower.• Ideal position: Sheltered.• Habit: Upright.• Group: Rhododendron hybrid.• Parentage: Dauricum X Unknown• Hybridization...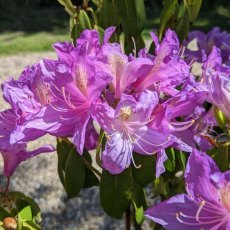 Rhododendron Summertime Blue
(H5) Glowing blue flowers, late in the season during late June, to extend the flowering season. An augustinii x trichanthum hybrid with upright habit, best in some shade to preserve the blooms. Height 125-150cm in 10 years. Requires moist acid soils.