Small Leaved Rhododendrons
Small Leaved Rhododendrons such as cinnabarina and triflora will grow 75 - 150 cm in 10 years often with an upright habit. Their softer foliage and stunning bell shaped flowers mix well with larger rhododendrons. We have selected a range to avoid powdery mildew, but they do benefit from being planted where air circulates freely.
Featured Products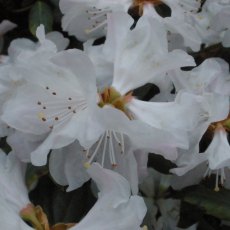 Rhododendron Dora Amateis AGM
Very pale pink buds open to beautiful pure white flowers with pink markings. This is a very free flowering plant in April. It is a compact grower with small palish green leaves that turn bronze if grown in sun, growing wider than tall. Height 60-80cm in 10 years. This tough plant is very adaptable, performing well in both shade and sun, but the flowers will last longer if slightly shaded. Recommended...
£17.95
Rhododendron Ilam Violet
Wonderful deep violet blue flowers in compact clusters flowering in April-May. These flowers really glow on the plant! The lovely reddish young aromatic leaves turn lettuce green in summer, then bronze in winter. The plant is best in light shade. Height 80-100cm in 10 years. Recommended for small gardens and mixed borders with great foliage Easy to grow Ideal position: most garden situations but...
£17.95
Rhododendron oreotrephes 'Pentland' AGM
Wonderful clone with deep mauve flowers with a paler centre in April-May. A very desirable species with beautiful sea-green foliage which is highly recommended. This selection was obtained from the Royal Botanic Gardens in Edinburgh by Peter Cox and introduced in 1990. R. oreotrephes Pentland has a tidy upright habit. Height 75-100cm in 10 years. Recommended for wonderful foliage. Easy to grow. Ideal...
£19.95
---
---
---