Small Leaved Rhododendrons
Small Leaved Rhododendrons such as cinnabarina and triflora will grow 75 - 150 cm in 10 years often with an upright habit. Their softer foliage and stunning bell shaped flowers mix well with larger rhododendrons. We have selected a range to avoid powdery mildew, but they do benefit from being planted where air circulates freely.
Featured Products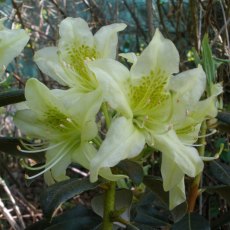 Rhododendron ambiguum 'Jane Banks'
Clear primrose yellow flowers with greenish spots on the upper lobes in April - May. It is a tough, close growing shrub with a bushy upright habit and attractive small glossy leaves with glaucous scaly underside. A delightful plant that can be pruned hard after flowering. Height 100-120cm in 10 years. R. ambiguum Jane Banks is a good clone raised at Hergest Croft Gardens in Herefordshire, which was...
£19.95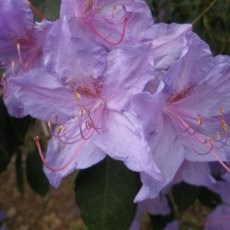 Rhododendron augustinii 'Bowood Blue'
NEW SELECTION! A most beautiful shrub, with large almost blue flowers. April - May. Upright bushy habit. Some protection required for first two winters. Height 150-175cm in 10 years. This is one of Lord Lansdowne's favourite augustinii clones from his spectacular Rhododendron collection at Bowood House. We are privileged to be the first nursery to offer this selection. It is a superb blue...
from £19.95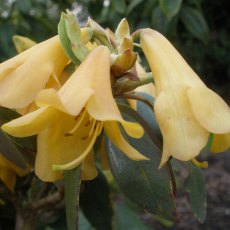 Rhododendron cinnabarinum xanthocodon
Pretty pale or creamy yellow campanulate flowers in May and June. This plant is easily grown and has wonderful small leaves with grey green foliage. It will perform best in open light shade and it does need good drainage. Height 120cm in 10 years. Recommended for great foliage and pretty flowers. Easy to grow. Ideal position: most garden situations as long as it has good drainage and an open site. Habit:...
£19.95
---
---
---
---
---
---