Camellias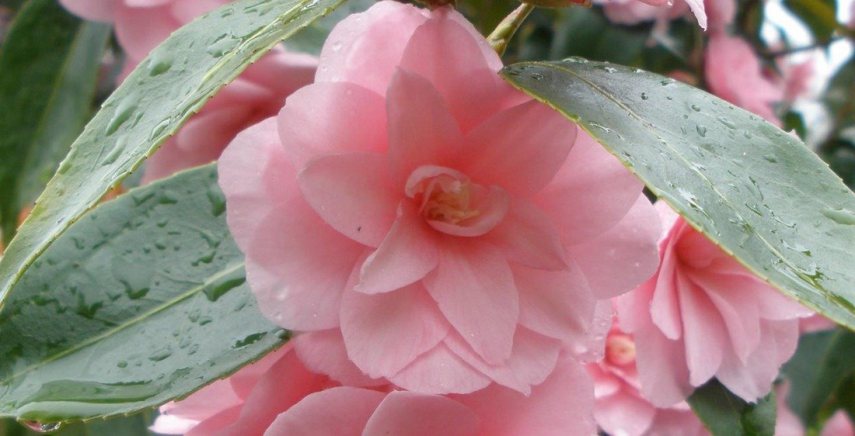 Evergreen shrubs with dark glossy leaves and pretty formal flowers in whites, pinks and reds.
We grow a small range to complement our Rhododendrons, and they like similar soil conditions. Camellias have a much stronger and deeper root system, but some varieties are prone to frost damage during the winter. In cold gardens, select the williamsii varieties which tend to be tougher. Do make sure that roots are well protected from frosts. A good mulch of leaf mould in the autumn is really beneficial.
---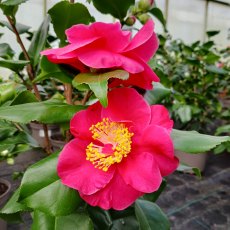 Camellia Dr King
(H5) Large semi double rosy red flowers with prominent yellow stamens in the centre. Long flowering in Spring. Strong growing upright habit with dark green glossy leaves. Height 125-150cm in 10 years. Best in moist acid soils.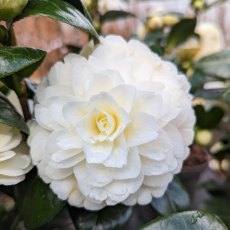 Camellia Golden Anniversary
A rare and stunning formal creamy white double camellia with a deeper centre. Best in light shade, and suitable for container growing. The perfect Golden Anniversary gift! Height 125-150cm in 10 years.
---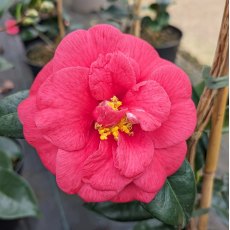 Camellia japonica 'Adolphe Audusson' AGM
(H4) Beautiful large red semi-double flowers in March-April. Tough reliable flowering in mid-season. Good glossy foliage on a plant of open upright habit. Height 150cm in 10 years.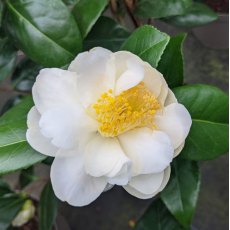 Camellia japonica 'Silver Anniversary' AGM
Large, semi-double white flowers with irregular petals intermixed with golden stamens. March-April flowering. Vigorous, compact, upright growth. Height 125-150cm in 10 years. This variety requires a sheltered garden and is best grown in the milder parts of the country.
---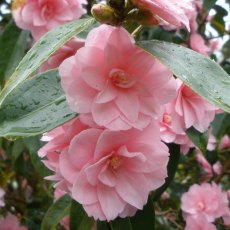 Camellia Spring Festival
(H5) Delightful rose pink semi-double flowers, late in the season, May flowering. The plant has a narrow upright habit, almost columnar when young. A popular cuspidata hybrid. Height 125-150cm in 10 years. This Camellia flowers near one of our ponds in our garden at Crosswater Farm, and always attracts a lot of attention in early May. It's upright habit, covered in flowers, makes it look like...