Camellias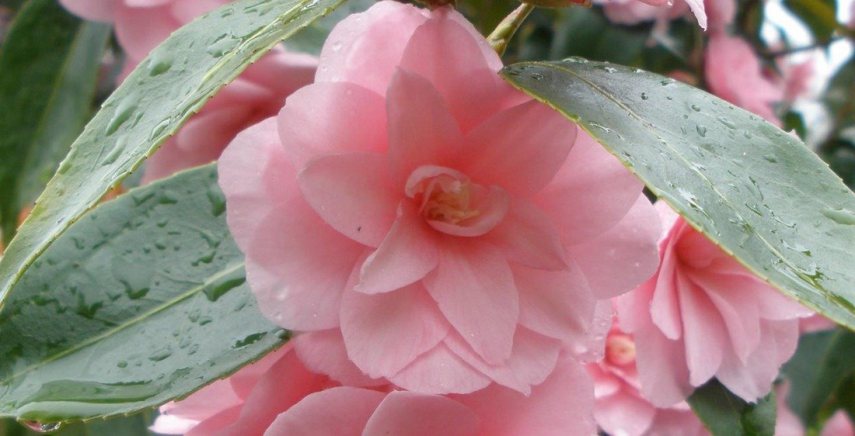 Evergreen shrubs with dark glossy leaves and pretty formal flowers in whites, creams, pinks and reds.
We grow a small range to complement our Rhododendrons, and they like similar soil conditions. Camellias have a much stronger and deeper root system, but some varieties can be prone to frost damage during the winter.
Camellia japonica or Camellia x williamsii?
There are more flower colour, size and shape options with the Camellia japonica's.
Camellia Japonica's will put up with a slightly colder temperature in the winter but love a long warm summer to help set flower buds. Camellia x williamsii do better in a slightly cooler summer garden and don't require as much direct sunlight to help with flower bud set. It does pay to make sure that all their roots are well protected from frosts. A good mulch of leaf mould in the autumn is always really beneficial.
Featured Products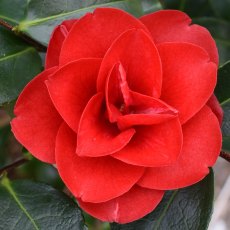 Camellia japonica 'Konronkoku' (Black Prince) AGM
Image owned by and supplied by Strete Gate Camellias (H5) Dark red rose-form double, almost wax-like flowers appear in the late Spring.Vigorous and upright growth. Prefers semi shade in moist acid soil. Can be pruned to required size/shape in Spring after flowering. Approximate height and width 175-200cm in 10 years.
from £28.95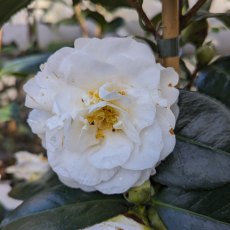 Camellia japonica 'Moshe Dayan'
(H5) Creamy white double flowers with yellow stamens flowering in March, and contrasting with deep glossy foliage on a bushy upright growing plant. Grows in sun or light shade. Height 125-150cm in 10 years. Best in moist acid soils.
from £28.95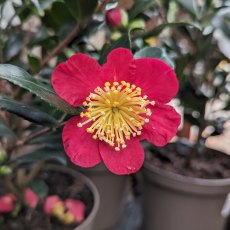 Camellia vernalis Yuletide
Camellia 'Yuletide' has a profusion of rich red flowers in winter. Each crimson bloom boasts prominent golden yellow stamens in its centre, creating a vibrant festive display. Flowering from November to January, it reaches its peak around Christmas, so the perfect Christmas gift! The glossy evergreen foliage adds year round structure to the garden. Plant with ericaceous compost in borders,...
from £28.95
---
---
---
---
---
---
---
---
---
---
---
---
---
---
---
---
---
---
---
---