Species Rhododendrons
Species Rhododendrons often have wonderful foliage, but are fairly specialist and are best grown by more experienced gardeners.
We pride ourselves in one of the best ranges of Rhododendron species in the country, and we try to propagate these from collectors' seed, or recognised good forms. Many new species Rhododendrons have recently been introduced, mainly from the Himalayas, and we include some for the first time. Many are well worth growing for their foliage alone!
Please note that the flower colour of some species can vary considerably from one clone to the next. eg R. campanulatum can flower from white to pink or deep lilac.
Featured Products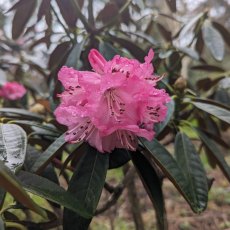 Rhododendron arboreum cinnamomeum 'Everest Reunion'
This plant has neat trusses of pink flowers in March-April. It has distinctive cinnamon red indumentum on the underside of the large leathery leaves. R. arboreum cinnamomeum 'Everest Reunion' makes a good show in our garden and was collected by Colonel Charles Wylie, (David's uncle) who was in charge of logistics and Nepali porters on the successful 1952 Everest expedition. This selection has attractive...
£26.95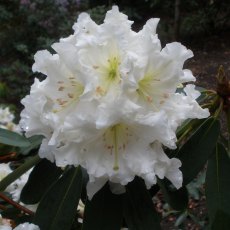 Rhododendron decorum AGM
Excellent scented trusses of white to pink funnel-shaped flowers in May. A magnificent plant with oblong leaves that are sometimes bronzy when young. A vigorous small tree that is easy to grow. Height is 180cm in 10 years. It will tolerate neutral and drier soils, but will perform best on moist acid soils. This is another variety that can take up to 5 years to flower, but we think it is so worth the...
from £26.95
Rhododendron irroratum 'Polka Dot'
A super selection with striking flowers that are white and heavily spotted deep purple suffused pink in March-April. It has hairy pedicels, ovary and style. This irroratum Polka Dot clone is always one of the most striking flowers on the show benches at Rhododendron competitions. Height 125-150cm in 10 years. Recommended for striking flowers. Easy to grow. Ideal position: sheltered woodland. Habit:...
from £26.95
---
---
---
---
---
---
---
---
---
---
---
---
---
---
---
---
---
---
---
---
---
---
---
---