Species Rhododendrons
Species Rhododendrons often have wonderful foliage, but are fairly specialist and are best grown by more experienced gardeners.
We pride ourselves in one of the best ranges of Rhododendron species in the country, and we try to propagate these from collectors' seed, or recognised good forms. Many new species Rhododendrons have recently been introduced, mainly from the Himalayas, and we include some for the first time. Many are well worth growing for their foliage alone!
Please note that the flower colour of some species can vary considerably from one clone to the next. eg R. campanulatum can flower from white to pink or deep lilac.
Featured Products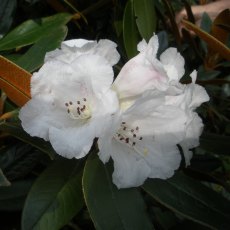 Rhododendron bureavii AGM
Lovely white rose flushed flowers spotted crimson or purple. Flowering in May this is a superb foliage plant, with thick woolly indumentum on the underside of the leaves turning from white to rusty red with age. One of the most distinctive rhododendron species. Our selected clone is propagated from a large plant growing at Crosswater which has great flowers and grows in a neat rounded habit. It has...
£24.95
Rhododendron roxieanum var. oreonastes AGM
Attractive white flowers flushed pink with delicate purple spotting in April - May. This is a wonderful choice foliage plant with dark narrow linear leaves that have an interesting buff indumentum on the underside. This is one of the species most prized by Rhododendron collectors, due to its fantastic foliage. However it can be shy to flower in some years and it dislikes fertilizer. Recommended...
£29.95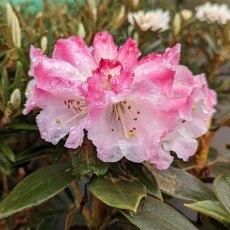 Rhododendron pubicostatum
(TALIENSIA H7) Trusses of light pink flowers. April-May. Excellent foliage with sparse brown indumentum on underside. Probably natural hybrid between R. bureavii and R. sikangense. Height 40-60 cm in 10 years.
£24.95
---
---
---
---
---
---
---
---
---
---
---
---
---
---
---
---
---
---
---
---