Species Rhododendrons
Species Rhododendrons often have wonderful foliage, but are fairly specialist and are best grown by more experienced gardeners.
We pride ourselves in one of the best ranges of Rhododendron species in the country, and we try to propagate these from collectors' seed, or recognised good forms. Many new species Rhododendrons have recently been introduced, mainly from the Himalayas, and we include some for the first time. Many are well worth growing for their foliage alone!
Please note that the flower colour of some species can vary considerably from one clone to the next. eg R. campanulatum can flower from white to pink or deep lilac.
Featured Products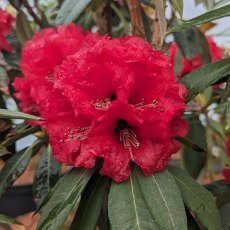 Rhododendron arboreum 'Rubaiyat'.
Selected clone with good red flowers and darker spots flowering in March-April. It has distinctive silvery indumentum on the underside of the large glossy and leathery leaves. R. arboreum is the National flower of Nepal that grows into a fine large tree. It makes a majestic plant that has the ability to re-grow from both the base and the trunk after a hard winter. Height 150cm in 10 years, eventually...
£26.95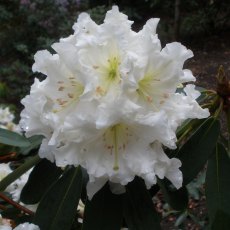 Rhododendron decorum AGM
Excellent scented trusses of white to pink funnel-shaped flowers in May. A magnificent plant with oblong leaves that are sometimes bronzy when young. A vigorous small tree that is easy to grow. Height is 180cm in 10 years. It will tolerate neutral and drier soils, but will perform best on moist acid soils. This is another variety that can take up to 5 years to flower, but we think it is so worth the...
£26.95
Rhododendron yakushimanum 'Koichiro Wada' AGM
Pink in bud opening to delightful white bell shaped flowers in May that have the appearance of apple blossom. Koichiro Wada has silvery new growth which turns dark glossy green, with dense brown indumentum underneath the leaf. There is a distinctive white covering (tomentum) on the top of the leaves. Height 50-75 cm in 10 years. This is generally accepted to be the best form of yakushimanum, selected...
£26.95
---
---
---
---
---
---
---
---
---
---
---
---
---