Tall Hybrid Rhododendrons
Our best selling Rhododendrons, ideal for hedges and large displays, growing to 125-200cm in 10 years
Our best selling range of rhododendrons with large flowers, blooming from January to July. These Hardy Hybrid Rhododendrons are ideal for hedging, screening or planting within borders. Typical height after 10 years will be between 140 - 200 cm.
Please note that some of these plants are broader than they are in height, and that the specimen sizes (eg 90-100cm) are measured by the larger of the height or width.
Featured Products
Rhododendron Phyllis Korn
Gorgeous creamy white flowers tinged primrose yellow, with a currant red blotch in early May. This plant has a well branched upright habit with good dark glossy foliage and is suitable for hedging and screening. Height 140-160cm after 10 years. Recommended for: Great flower and foliage. Easy to grow. Ideal position: Most garden situations. Habit: Dense. Group: Hybrid Rhododendron. Parentage:...
£27.95
Rhododendron Silver Edge
An interesting variegated plant with distinctive silver leaf edging. It has soft lavender blue flowers in May to June. A dense and fast growing, tough plant. Height 180+ cm in 10 years.This plant is ideal for hedging and screening. It is vigorous and tolerates sun. Recommended for: Hedging/screening. Easy to grow. Ideal position: Most garden situations. Habit: Dense. Group: Hardy Hybrid. Parentage:...
£25.95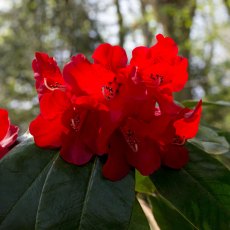 Rhododendron Scarlet O'Hara
(H5) Bright red waxy flowers in big open trusses in May, with dark green glossy rounded leaves, on a plant with a dense mounded habit. Recommended for its outstanding glowing red flowers and interesting foliage. A woodland type rhododendron which prefers growing in light dappled shade to preserve foliage and flower colour. This particular clone comes from Ray Wood at Castle Howard in Yorkshire, where...
£27.95
---
---
---
---
---
---
---
---
---
---
---
---
---
---
---
---
---
---
---
---
---
---
---
---