Tall Hybrid Rhododendrons
Our best selling Rhododendrons, ideal for hedges and large displays, growing to 125-200cm in 10 years
Our best selling range of rhododendrons with large flowers, blooming from January to July. These Hardy Hybrid Rhododendrons are ideal for hedging, screening or planting within borders. Typical height after 10 years will be between 140 - 200 cm.
Please note that some of these plants are broader than they are in height, and that the specimen sizes (eg 90-100cm) are measured by the larger of the height or width.
Featured Products
Rhododendron Cunningham's White
Mauve buds open to white flowers with a pale yellow eye in early May. With delicate small flowers, it is a very tough dense plant which is good for screening and difficult positions. Cunninghams White is also tolerant of neutral/slightly alkaline soil. Height 140-160cm in 10 years.It certainly ranks as one of our favourites and is ideal for hedging and screening. If you have a difficult position this...
£24.95
Rhododendron Pearce's American Beauty
Striking strong deep pink flowers (90 x 75mm) with greenish yellow spots on a ball shaped truss of 18 flowers. Flowering in late May-June it will tolerate heat and cold. It is a tough plant that has a nice olive green foliage and is a dense and vigorous grower. Height 175-200cm in 10 years. Recommended for striking flower and tough grower also good for hedging and screening. Easy to grow. Ideal...
from £195.00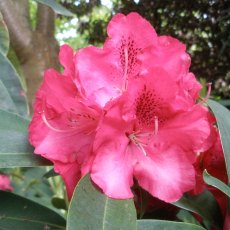 Rhododendron Wilgen's Ruby
Nice deep red flowers with brown spotting on the upper lobes. Flowering in late May it has a good compact habit. Height 120-150cm in 10 years.Wilgins Ruby would make the perfect gift for a Ruby Wedding Anniversary! Recommended for: Good red with tidy habit. Easy to grow. Ideal position: Most garden situations. Habit: Dense. Group: Hybrid Rhododendron. Parentage: 'Britannia' X 'John Walter'. Hybridization...
£25.95
---
---
---
---
---
---
---
---
---
---
---