Tall Hybrid Rhododendrons
Our best selling Rhododendrons, ideal for hedges and large displays, growing to 125-200cm in 10 years
Our best selling range of rhododendrons with large flowers, blooming from January to July. These Hardy Hybrid Rhododendrons are ideal for hedging, screening or planting within borders. Typical height after 10 years will be between 140 - 200 cm.
Please note that some of these plants are broader than they are in height, and that the specimen sizes (eg 90-100cm) are measured by the larger of the height or width.
Featured Products
Rhododendron Christmas Cheer AGM
One of our favourite plants! This one is pink in bud, opening to pretty blush pink flowers that fade almost to white in a small truss. One of the first to flower in March. This variety used to be forced in the greenhouse and presented as a magnificent Christmas table decoration; hence its name! It also makes a lovely gift for anyone interested in their garden. A very dense and tough plant. Height 140-160cm...
£25.95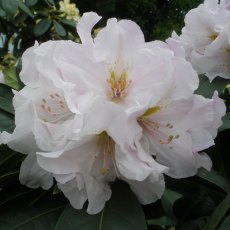 Rhododendron Eskimo
Mauve in bud and initially in flower, Eskimo soon changes to ice-white. We love this plant's white flowers with yellow-green spotting on the upper lobe and a slight lilac flush in centre. Flowering in late May to mid June this is a tough hybrid from Germany. Height 160cm in 10 years.Also known as Hachmann's Eskimo. Recommended for: tough and reliable. Easy to grow. Ideal position: Most garden...
£295.00
Rhododendron Olga AGM
A compact plant with very striking light orange-apricot flowers fringed pink with deeper spotting. Flowering in late May to June it has good foliage on a plant with a spreading habit. Height 140-160cm in 10 years.Orange varieties do tend to grow a little more slowly than other colours. Recommended for: Striking flower. Easy to grow. Ideal position: Most garden situations. Habit: Open. Group:...
£27.95
---
---
---
---
---
---
---
---
---
---
---
---
---
---
---
---
---
---
---
---
---
---
---
---