Tall Hybrid Rhododendrons
Our best selling Rhododendrons, ideal for hedges and large displays, growing to 125-200cm in 10 years
Our best selling range of rhododendrons with large flowers, blooming from January to July. These Hardy Hybrid Rhododendrons are ideal for hedging, screening or planting within borders. Typical height after 10 years will be between 140 - 200 cm.
Please note that some of these plants are broader than they are in height, and that the specimen sizes (eg 90-100cm) are measured by the larger of the height or width.
Featured Products
Rhododendron Mrs Charles Pearson AGM
This pretty and useful plant has mauve-pink buds that fade to near white in flower with brown spots. It has good dark foliage and flowers in late May to early June. It is vigorous and has an upright and dense habit. Height 180cm in 10 years.It certainly is one of our favourites and is ideal for hedging and screening. Vigorous and tolerating sun and heat, this is a great plant. Height 150-180cm in 10...
£25.95
Rhododendron Purple Passion
Wonderful large reddish purple flowers (50 x 75mm) with a white blotch and purple spots, and darker at the edges, 12-16 flowers on a ball shaped truss. Flowering in late May this is a good hardy plant with pest and disease resistant foliage. Height 150-175cm in 10 years. Recommended for: reliable hardy plant. Easy to grow. Ideal position: Most garden situations. Habit: Dense. vase shaped. Group:...
£25.95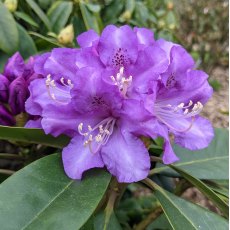 Rhododendron True Blue
(H6) Lovely vivid purple in bud opening to lighter purple with dark purple spotting and distinctive white stamens. Flowers in May, on a dense plant with deep green leaves. Height 125-150cm in 10 years.
£25.95
---
---
---
---
---
---
---
---
---
---
---
---
---
---
---
---
---
---