Tall Hybrid Rhododendrons
Our best selling Rhododendrons, ideal for hedges and large displays, growing to 125-200cm in 10 years
Our best selling range of rhododendrons with large flowers, blooming from January to July. These Hardy Hybrid Rhododendrons are ideal for hedging, screening or planting within borders. Typical height after 10 years will be between 140 - 200 cm.
Please note that some of these plants are broader than they are in height, and that the specimen sizes (eg 90-100cm) are measured by the larger of the height or width.
Featured Products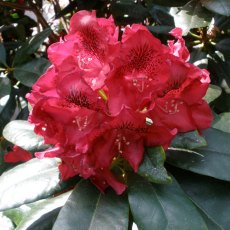 Rhododendron Cherry Kiss
NEW! An excellent new German plant with deep red flowers and lovely dark green glossy foliage. Glowing red funnel shaped flowers with wavy edging in a neat compact truss, with contrasting almost white stamens, and cream upward pointing anthers. Late May flowering. Equally striking are the thick dark very deep glossy leaves on a handsome plant broadly upright plant. A very hardy plant, claimed to...
from £28.95
Rhododendron Fastuosum Flore Pleno AGM
Trusses of semi-double pale bluish-mauve flowers, with green-brown flare that is free flowering in late May-June. This is one of our favourites because the flowers last well, especially in some shade. It is fast growing, vigorous and ideal for hedging/screening. An excellent well mannered plant which we recommend to use instead of Rhododendron ponticum (the wild variety) which is too invasive. Height...
from £28.95
Rhododendron Gomer Waterer AGM
Lovely rosy-lilac buds open to pinky-white flowers flushed mauve pink at the edges with a distinctive yellow-brown flare. This plant is a well proven older variety that flowers in early June. It certainly ranks as one of our favourites and is ideal for hedging and screening. If you have a difficult position this is definitely the plant for you. Vigorous and tolerating sun, heat and wind and shade,...
from £26.95
---
---
---
---
---
---
---
---
---
---
---
---
---
---
---
---
---
---
---
---
---
---
---
---