Tall Hybrid Rhododendrons: Page 2
Featured Products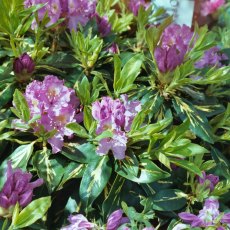 Rhododendron Goldflimmer
A great plant that has lilac mauve flowers with a yellow blotch in late May. This is one of the few Rhododendrons with variegated foliage and deserves a place in any garden. It has glossy, dark green leaves with prominent yellow splashings in the centre. Tough and reliable it is another favourite. Height 120-140cm in 10 years. Recommended for: Variegated foliage. Easy to grow. Ideal position:...
£25.95
Rhododendron Scintillation AGM
Wonderful large pastel-pink flowers with a yellow brown flare. Flowering in mid May this is an excellent very hardy hybrid with deep green glossy leaves. It is heat and cold tolerant and most suitable for hedging and screening. It does prefer a position in light shade. Height 150-180cm in 10 years. Recommended for: Hedging/screening. Easy to grow. Ideal position: Dappled shade. Habit: Dense. Group:...
from £25.95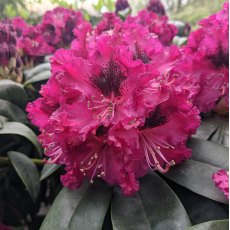 Rhododendron Marie Fortie
(H5) Dark wine red flowers in a compact conical truss, with a blotch of darker markings. Late May to mid June flowering. Attractive dark green foliage held on dark stems. An old variety of unknown parentage originating from Belgium before 1925. Height 150-175cm in 10 years. Sometimes incorrectly named as 'Mademoiselle Marie Fortie', or 'Mary Forte'.
from £25.95
---
---
---
---
---
---