Tall Hybrid Rhododendrons
Our best selling Rhododendrons, ideal for hedges and large displays, growing to 125-200cm in 10 years
Our best selling range of rhododendrons with large flowers, blooming from January to July. These Hardy Hybrid Rhododendrons are ideal for hedging, screening or planting within borders. Typical height after 10 years will be between 140 - 200 cm.
Please note that some of these plants are broader than they are in height, and that the specimen sizes (eg 90-100cm) are measured by the larger of the height or width.
Featured Products
Rhododendron Graffito
NEW. This fantastic plant was bred by Hans Hachmann in Northern Germany. It has lovely white flowers with a prominent wine red flare on the upper lobe in late May. Particularly hardy with attractive dark green glossy leaves. Height 150cm in 10 years. Recommended for: Tough with dinstinctive flower and great foliage. Easy to grow. Ideal position: Most garden situations. Habit: Dense. Group: Hybrid...
Rhododendron Marcel Menard AGM
Deep purple violet flowers, with prominent greenish speckling in the throat. Flowering late May to early June this is an old but particularly tough variety with clean dark green foliage. Height 140-160 cm in 10 years.Also known as Monsieur Marcel Menard. Recommended for: Striking flower and tough. Easy to grow Ideal position: Most garden situations. Habit: Dense. Group: Hybrid Rhododendron. Parentage:...
£28.95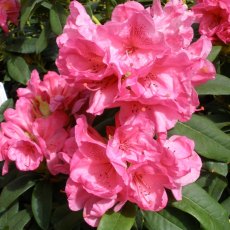 Rhododendron Van
This is a sister seedling to R. Anna Rose Whitney, grown by Van Veen Nurseries near Portland in Oregon, hence the name! It has distinctive deep pink flowers with deeper spotting in the centre during May - June. It is a handsome and dense plant that regularly flowers really well. Lots of people like R. Anna Rose Whitney, but it is prone to powdery mildew, whereas R. Van grows cleanly without any trouble,...
from £28.95
---
---
---
---
---
---
---
---
---
---
---
---
---
---
---
---
---
---
---
---
---
---
---
---