Rhododendron Cunningham's White
Item: HCUN

In stock

Flowering Month:
May

Flower Colour:
White

Hardiness:
Below -20 °C

Height After 10 Years:
150-175cm

Scent:
Not Scented

Interesting Foliage:
No
Collect in Store
This item is available for collection.
Home Delivery
UK mainland delivery from £8.95

22 reviews
Mauve buds open to white flowers with a pale yellow eye in early May. With delicate small flowers, it is a very tough dense plant which is good for screening and difficult positions. Cunninghams White is also tolerant of neutral/slightly alkaline soil. Height 140-160cm in 10 years.
It certainly ranks as one of our favourites and is ideal for hedging and screening. If you have a difficult position this tough plant will perform well. This is the plant that we use as rootstock for all the varieties that we graft because it is so reliable.
Recommended for: Hedging/screening.
Easy to grow.
Ideal position: Most garden situations.
Habit: Dense.
Group: Hardy Hybrid.
Parentage: caucasicum (s) X white flowered ponticum.
Hybridization date: pre 1900 (1830).
Bred by: J. Cunningham. Origin: British.
Tolerant of neutral soil.
Ideal soil: pH 4 to 6.
RHS Hardiness Rating: H7.
How we usually propagate this plant: Cutting.
Customer Reviews
By
SteveChris Higgins
on
26th August 2023
"Excellent quality plant for a very reasonable price. Delivery was very efficient. Without doubt the best value for money rhododendron I have bought in 45 years of gardening."

By
E Rees
on
10th May 2022
"Excellent plant, well packaged and arrived before the date posted"

By
Simon crossley landscapes
on
25th April 2022
"Great plants, good size and clean.m service was great."

By
CeriLewis
on
16th March 2022
"I have bought quite a few rhododendrons from Millais now. They have all been beautiful plants upon arrival and have thrived in the garden. "

By
David Burnett
on
29th October 2021
"I expected to receive a fine plant based on my previous experience at Millais, and a fine plant was what I got, to my great satisfaction."

By
WhilmaBoyce
on
1st June 2021
"Stunning plants - this was one of 2 rhododendron I ordered to replace very old plants in a garden planned 100 years ago by a rhododendron enthusiast. They will do him proud."
By
ElizabethHarpin
on
6th April 2021
"I have bought several of these rhododendrons and they are excellent plants .Good quality great service and excellent delivery. Would recommend"

By
Katherine
on
14th March 2021
"Wonderfully healthy looking plant, now well installed in the garden. Looking forward to seeing it bloom later in the year"

By
KarinBuser
on
8th December 2020
"I bought Rhododendron Cunningham's White and it arrived within the week. The plant is a good size and looks wonderfully healthy and in bud. I received prompt feedback from the nursery on planting questions and they were very pleasant to deal with. I highly recommend this nursery and am very pleased with the product. "

By
SharonHemingway
on
29th October 2020
"This is one of four rhododendrons I purchased to provide a screen to a wooded area at the front of my property. The shrubs arrived full with large buds and all had very healthy leaves and good overall shape. The delivery was prompt and packaging excellent. the plants arrived in wonderful condition and were a joy to plant. Looking forward to seeing their spring show of blooms and know they will look fabulous as they become established. Will certainly be buying plants from Millais in the future."

By
CarolineGallagher
on
30th September 2020
"Amazing plant healthy,larger than expected fast delivery one of the best online purchases "

By
EmmaDallimore
on
6th August 2020
"I did a lot of research before selecting these plants - and the nursery - and I am absolutely delighted with them and with the service received. They arrived quickly and were incredibly well-packaged - all three were exceptionally healthy and bushy, and they seemed to be visibly growing within hours! They were well-rooted and have settled into their new woodland home very well - we can't wait to see them flower next year. I would not hesitate to order from you again or to recommend you to anyone else."

By
carl
on
3rd August 2020
"Beautiful"

By
michael weston
on
11th July 2020
"Came in very good condition and looks like it will be a good shrub for the garden. I would shop again "

By
Grace Fenwick
on
8th July 2020
"This plant took my breath away. A fantastically strong specimen. It is destined for a fairly exposed spot and I am sure it will thrive. It has certainly settled well in it's new surroundings."
By
Susan Maude
on
2nd July 2020
"My shrub had been carefully wrapped and protected for it journey North. When opened it was in amazing condition, an absolutely super plant. It is now very happily planted in my garden. As I shall require a couple more shrubs for my garden I will not hesitate to use Millais. Thank you so much."
By
Simon
on
20th June 2020
"Delivered really quickly given the current situation and were perfect plants when they turned up. They already grown nicely since planting and had the odd flower or two. Can't wait to see them in spring next year. Ended up ordering more and recommending them to a family member who also ordered one!"

By
Grace Pollock
on
19th June 2020
"Very healthy plant delivered on time."

By
Fiona Mercer
on
13th June 2020
"Healthy, bushy plant which has almost doubled in size since planting. Looking forward to seeing it in flower next year! Arrived well packaged. Thank you"

By
Roberta Bergero
on
7th June 2020
"Rhododendron in very good conditions. "

By
Monika Fiszbach
on
16th May 2020
"Great quality, nicely prepared delivery "

By
Lesley
on
13th May 2020
"Lovely healthy plant in good condition on arrival and now growing well in my garden."

Good to know
Our best-selling Rhododendrons, ideal for hedges, screening and large displays, growing to 125-200cm in 10 years.
Most of these plants can be described as 'Hardy Hybrids', the tough dense plants which are ideal for hedging and screening, or for planting within a border. Some can even be described as 'Ironclads' – tough plants that will withstand temperatures of below -20°C, and the coldest European winter. With care, it is possible to select varieties which flower from January until June, with flower trusses in a wide range of colours. With their dense downward pointing leaves, recent research has shown that they reflect sound waves and create some of the best natural sound barriers. They will take sun or shade, but dappled is best. Most hardy hybrids will bud up and flower as a 5 or 7.5 litre plant.


Also in this section are more tender varieties with delicate bell-shaped flowers that hang in small clusters, and sparser foliage. These are better suited to the more sheltered woodland garden, where they can add great character without creating dense plantings. Some woodland types have a more upright and open tree-like habit, so are not suited for screening purposes, but make great focal plants in the garden. Yellow and orange flowering varieties are always slower growing and more fussy, requiring excellent drainage. You won't find these special plants in a garden centre, and they may take a year or so longer before they start flowering, but they will grow into choice long term plants.


Those flowering from December to March often flower erratically through the winter, with blooms opening in succession. This means that at least some blooms will avoid the frosts, and give some welcome flower to brighten up a winter's day. Trees with overhead canopy can give a few degrees of frost protection to the flowers. Late flowering varieties also benefit from tree canopy to provide shade during the summer months when the sun is that much stronger.


Rhododendrons like moist acidic soil, with good drainage, and plenty of organic matter such as leaf-mould and added ericaceous compost. Plant no deeper than the top of the rootball, and dig in plenty of good ericaceous compost around the sides. For a guide to plant spacing, use the height we give in 10 years as a guide to the distance between each plant. Spacing can be closer when planting a hedge, or if you are impatient. For planning a border, spacing should be one plant per 3-4m². Give a teaspoon of slow-release feed at the 5 litre size, rising to a handful full for mature plants. Tall hybrid rhododendrons are not typically damaged by deer or rabbits. They are not recommended for container growing, which they would outgrow in a few years.
Please note: Some varieties are wider than their height. Specimen size plants (eg 80-90cm) will be measured by their largest measurement which could be the spread of the plant.

For further advice, For further advice, see here
Size Guide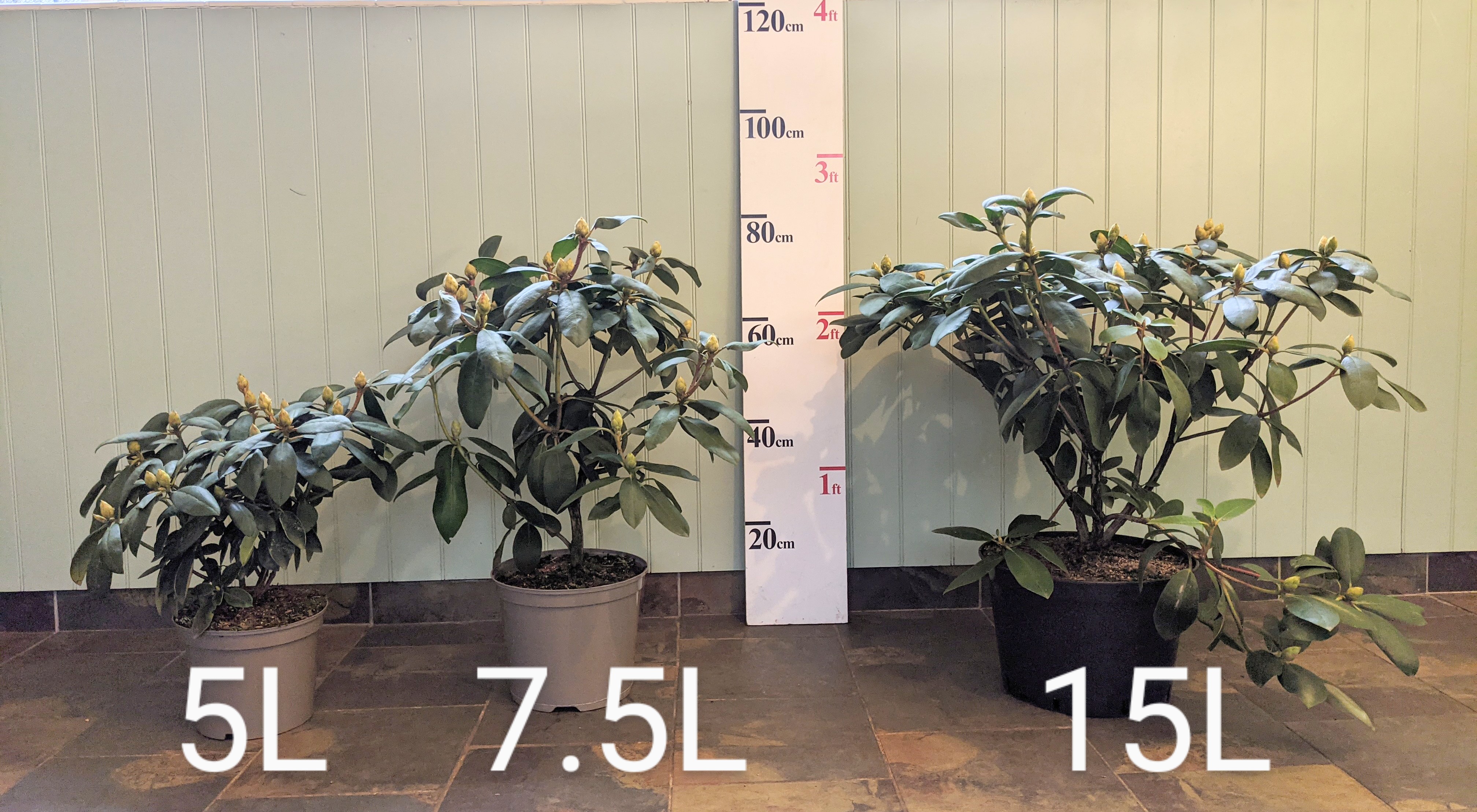 The Basics
Ideal soil
Acidic soil, good organic content, pH 4.5-6.0. Inkarho range of rhododendrons will tolerate soils up to pH7.5
Sun or Shade
Light dappled shade is best for most varieties.
Shelter
Refer to hardiness rating. Give young plants protection.
Site Selection
Avoid close to trees, roots, invasive weeds, walls, hot patios, dry banks and waterlogged soils. Do not use weed matting or stone mulch.
Plant spacing
Use the height shown in 10 years as a guide to the distance between each plant. Allow room for plant to fill out. If planting closer for instant impact, be prepared to move plants after a few years.
Compost
3 litre pot, dig in 10-20 litres of ericaceous compost.
7.5 litre pot, dig in 20-30 litres of ericaceous compost.
70-80cm specimen, dig in 60 litres of ericaceous compost.
100-120cm specimen, dig in 120 litres of ericaceous compost.
Planting depth
Plant high in the ground, with the top of the rootball visible.
Feeding
Slow-release ericaceous feed recommended in March and straight after flowering.
Mulch
Recommended every few years.
Water
The key ingredient! Keep moist all season, especially the critical time at end of June for flower bud initiation. Tap water is better than no water. Heavy dose at least once per week in dry weather.
Drainage
Ensure good drainage in winter, especially with yellow flowering varieties. Avoid waterlogged sites.
Pruning
Rhododendrons and Camellias: Not normally required. Tidy wayward shoots after flowering.
Evergreen azaleas and Bloombux can be clipped into a low hedge.
Magnolias and Acers: Formative pruning when young to shape into a tree or bush.
Deadheading
Remove old flower-heads, particularly on young or weak plants.
For further advice see here
Delivery & Returns
Our website calculates the delivery charge according to weight and delivery location throughout the UK. To see these charges, please enter your postcode at the checkout, and you will see the charge vary as you add more items to your wheelbarrow.
Please see here for delivery information
People who bought this also bought...
---
---
---