Compact Rhododendrons
Dome-shaped plants ideal for pots and small borders, growing to 75-100cm (2.5-3 foot) in 10 years.
This group consists of Rhododendron yakushimanum and Rhododendron williamsianum hybrids forming mound shaped plants of 75 - 100 cm after 10 years. Williamsianum hybrids normally flower in April with bell shaped flowers and are tolerant of slightly higher pH soils. Yak hybrids mainly flower in May, in rounded trusses which fade gently to a paler colour. They are typically very tough plants, and are ideal for the front of border or for more formal situations in containers.
Most of these varieties are dome shaped plants, wider than their height. Specimen size plants (eg 80-90cm) will typically be measured across the spread of the plant.
Featured Products
Rhododendron Bremen
Glowing scarlet red flowers in a loose truss appear in April. This plant has bright silvery green leaves and is neat and compact. It is hardy, but needs a sheltered site. Height 40-60cm in 10 years. Ideal for containers and small gardens. Easy to grow. Group: williamsianum. Parentage: unknown x williamsianum Hybridization date: pre 1950 (1945) Bred by: D G Hobbie. Origin: German. Habit: Compact...
£16.95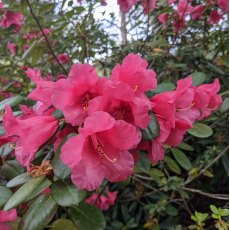 Rhododendron Lovely William
Stunning deep rose flowers in a loose truss in April to May. We like this plant for its low growing open habit and lovely rounded leaves. R. williamsianum hybrids have characteristic rounded leaves that give them that little extra interest in the garden. Bred by Sir James Horlick on Isle of Gigha, Argyllshire. Height 75-100cm in 10 years. Ideal for containers and small gardens. Easy to grow. Group:...
Was £16.95
Now £15.25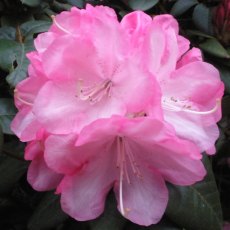 Rhododendron Stadt Essen
Stadt Essen has gorgeous clear-pink flowers with a deeper edging flowering in April. A particularly good and hardy williamsianum hybrid from Hobbie's Nursery and Garden in Northern Germany, with deep green rounded foliage which is bronzed when young. R. williamsianum hybrids are renowned for their rounded leaves which make them an interesting addition to any garden. They will also tolerate slightly...
---
---
---
---
---
---
---
---
---
---
---
---
---
---
---
---
---
---
---