Compact Rhododendrons
Dome-shaped plants ideal for pots and small borders, growing to 75-125cm (2.5-3 foot) in 10 years.
This group consists of Rhododendron yakushimanum and Rhododendron williamsianum hybrids forming mound shaped plants of 75 - 100 cm after 10 years. Williamsianum hybrids normally flower in April with bell shaped flowers and are tolerant of slightly higher pH soils. Yak hybrids mainly flower in May, in rounded trusses which fade gently to a paler colour. They are typically very tough plants, and are ideal for the front of border or for more formal situations in containers.
Most of these varieties are dome shaped plants, wider than their height. Specimen size plants (eg 80-90cm) will typically be measured across the spread of the plant.
Featured Products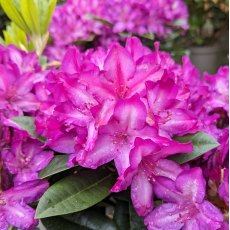 Rhododendron Blue Print
Image supplied and owned by Tijs Huisman (H6) An interesting two tone purple and white flower from mid May - early June. The main bulk of the flower is purple with a white star shaped centre which darks to purple as the flowers age. Each individual flower has faint speckling in the upper lobe. This plant grows to form a dense mound of bottle green foliage. The new stems and leaf petioles open a dark...
£27.95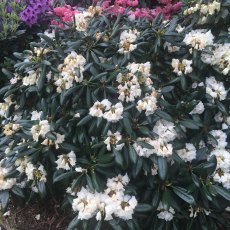 Rhododendron Rexima
(H5) An interesting foliage plant, combining the winning traits of R. yakushimanum and R. rex. Lilac pink in bud, opening white with a dark red basal blotch and markings in May. Large dark green leaves with brown indumentum on the undersides, which have been inherited from the big leaved R. rex, but growing in a useful compact habit due its yakushimanum parentage. Height 100-125cm in 10 years. •...
£35.95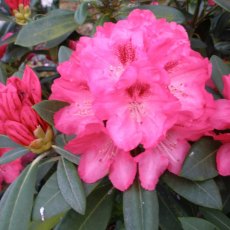 Rhododendron Sneezy AGM
This plant has very pretty pink flowers with darker edges flowering in late May. One of the more vigorous 'Seven Dwarfs' yakushimanum hybrids, with an upright growing habit. Height 80-100cm in 10 years. Ideal for containers and small gardens. Easy to grow. Group: yakushimanum. Parentage: yakushimanum X 'Doncaster' Hybridization date: pre 2000 (1970) Bred by Waterer's Nurseries, Bagshot. Origin:...
from £22.95
---
---
---
---
---
---
---
---
---
---
---
---
---
---
---
---
---
---
---
---
---
---
---
---