Evergreen Azaleas
Evergreen Azaleas, sometimes known as Japanese Azaleas, are as popular as ever, and are ideal for any size of garden from a window box to a large estate. Most Azaleas flower in May and grow to 60-75 cm in 10 years, but look out for our speciality late flowering nakaharae Azaleas which are prostrate, and excellent for cascading over walls or tubs.
Featured Products
Evergreen Azalea Kirin
Lovely hose-in-hose (double) deep rose flowers shaded silvery-rose up to 25mm across. It has a low spreading habit. Height 60-75cm in 10 years. This is one of the best 50 azaleas selected by Ernest Wilson, known as 'Wilson's 50', from Japan and introduced by him in 1918. This variety is known as Wilson No. 22, or 'Daybreak'. Ideal for containers. Great for cascading over walls. Easy to grow. Group:...
£12.95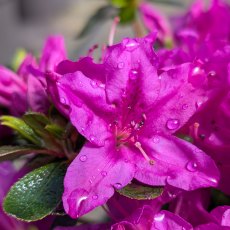 Evergreen Azalea Lady Dark
(H6) Strong bright purple violet flowers, with darker purple spots at the base of the flower. A really good glowing colour during May and early June. Large 40-50mm flowers, on a very hardy and compact growing plant with good deep green glossy foliage all winter. Height 50-75cm in 10 years. A striking new Azalea from Holger Hachmann in Northern Germany. Ideal for containers and most garden situations,...
£13.95
Evergreen Azalea Santa Maria AGM
Wonderful large glowing orange-red flowers in May on a strong growing plant of upright habit with good glossy dark green leaves. Height 75-90cm in 10 years. Much admired by Roy Lancaster when he visited our Nursery, and now gracing his garden. Ideal for containers and small gardens. Easy to grow. Group:Evergreen Azalea (kaempferi hybrid). Parentage: unknown. Hybridization date: unknown but...
£27.95
---
---
---
---
---
---
---
---
---
---
---
---
---
---
---
---
---
---
---
---
---
---
---
---