Big Leaved Rhododendrons
Wonderful architectural plants with huge leaves up to 60cm long! These are choice woodland Rhododendrons needing the very best sheltered positions to allow them to grow to their full stature of up to 5 metres. As a bonus, flowering will typically start after 6 years.
Big leaved Rhododendrons are among the more tender of our range, but are well worth trying if you have the correct conditions. They are best suited to sheltered woodland in the milder regions of the UK, though they can also be used as feature plants in sheltered courtyard gardens. Winter protection is recommended for young plants.
Featured Products
Rhododendron falconeri ssp. eximium AGM
This is a wonderful large shrub with deep red flaking bark and wonderful broad leaves up to 45cm long with a dark rust indumentum beneath. It has gorgeous creamy rose pink flowers fading to creamy pink in big trusses of 12 to 20 cm in 10 years. Another of our favourite big leaf species with distinctive young foliage covered in rusty brown indumentum on the upper surface which lasts for up to one year.Named...
£29.95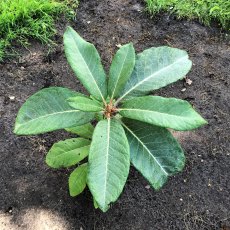 Rhododendron suoilenhense (seedlings from AC 4458)
Picture of a 3 litre plant for illustrative purposes only (GRANDIA H4-5) Recently collected from Vietnam. Creamy white campanulate flowers with maroon basal flashes, in a rounded truss, April. Large foliage with indumentum on older leaves. Early intoductions to the UK have produced tall, majestic and fast growing trees when grown in good conditions. Height 150-175cm in 10 years. Requires moist acid...
from £29.95
---
---
---