New Products
---
Rhododendron Silver Copper
NEW! Masses of pinky-white frilly flowers with a dark red blotch in the centre, flowering in May. The plant is named for its wonderful new foliage during the summer months. The new growth in June and July is covered in a bright silvery tomentum (powdery coating) which turns a copper colour before washing off in autumn rains to reveal dark green leaves during the winter months. The leaf undersides are...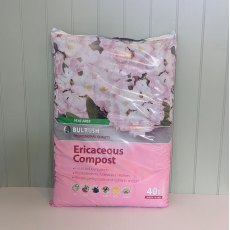 Bulrush Peat Free Ericaceous Compost 40 litre
Bulrush peat free ericaceous compost has been specially developed to provide the ideal balance of nutrients and pH balance for lime hating plants such as Rhododendrons, Azaleas, Camellias and Heathers. The compost is a blend of coir, clay and Forest Gold with added calcium, fertiliser and essential minerals to provide a good growing medium for plants. Forest Gold is a timber derived additive produced...