New Products
---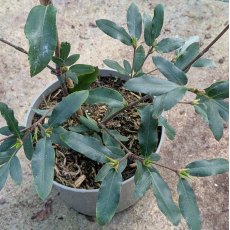 Eucryphia intermedia Rostrevor
(H4) An abundance of white cup shaped fragrant flowers in late summer early autumn. A compact but fast growing evergreen tree with broad upright habit. Needs a warm and sheltered position, Prefers shaded roots with the canopy in full sun. Height 2-4m in 10 years. Plant in moist acid or neutral soils.
Deutzia x rosea Yuki Cherry Blossom
(H5) A profusion of creamy white flowers with pink outer edging in April-May, like a carpet of cherry blossom on a neat compact plant. Burgundy autumn foliage colour. Ideal for containers. Height 50-75cm in 10 years. Best in full sun or dappled shade.
---
Rhododendron Bloombux Magenta INKARHO
(H6) NEW. A wonderful flowering alternative to troublesome box hedging! Lots of clusters of pink flowers in June. The plant responds well to trimming after flowering. Height 50-75cm in 10 years. Easy to grow in most soils. This superb new variety was raised by the INKARHO syndicate as 'Microhirs3' with PBR Plant Breeders Rights. It is suitable for growing on most garden soils, from very acidic...