Compact Rhodo Collection (4 x 3 litre plants!)
Item: HAACOMP

In stock

Hardiness:
To -15 °C

Scent:
Not Scented

Interesting Foliage:
No
Collect in Store
This item is available for collection.
Home Delivery
UK mainland delivery from £8.95

8 reviews
Picture for example only. Please see descriptions below.
This is a lovely collection of 4 compact growing Rhododendrons that compliment each other and are suitable for containers, smaller gardens or for the front of a border. They are all tough and hardy plants that will grow well throughout the UK.

We grow these plants in 3L pots and we normally sell them for £22.95 each. They are 20-30cm tall now, reaching around 80-100cm in 10 years. Usually they flower in May and often have interesting foliage

This special offer is for online purchase only, but you can 'Click and Collect' at the checkout if you wish to collect from our nursery.

This lovely collection includes one of each of the following varieties:
This is an amazing offer, saving you £21.80 off individual prices.
Customer Reviews
By
Jane Fountain
on
27th April 2023
"I have ordered previous from Millais Nurseries previously. Sadly I have lost a number of azaleas, rhododendrons & Pieris in the harsh Winter so was looking to replace a number of plants. They were my 'go to' place to order quality plants. Everything was very well packed and arrived in perfect condition. I would have absolutely no hesitation in recommending Millais Nurseries to my family & friends"

By
Peter G Trinder
on
5th November 2022
"Lovely plants in excellent condition now potted up"

By
DarrellKing
on
9th December 2021
"Absolutely delighted with my 4 plants. Superb quality and healthy plants with many buds adding to the anticipation next year. Well packed and delivered. "

By
Carol Downie
on
16th September 2021
"Beautiful healthy plants delivered promptly and in very good condition. Already thriving having been planted immediately on arrival."

By
IanFry
on
11th November 2020
"5 star service and 5 star quality plants"

By
wacheongbtinternetcom
on
16th September 2020
"good value for the price paid and all the plants were in good condition. The 3kg slow release fertiliser is beneficial to the plants having used this before."

By
L norstrand
on
28th October 2018
"Rapid delivery, well packaged and good quality plants"

By
Peter Trinder
on
30th September 2018
"Four excellent plants arrived in good condition, and repotted in 15cm pots"

Good to know
Dome-shaped plants ideal for pots and small borders, growing to 75-100cm (2.5-3 foot) in 10 years. These are mainly of Rhododendron williamsianum and Rhododendron yakushimanum hybrids.

R. williamsianum hybrids normally flower in April and are tolerant of slightly higher pH, which can be useful for those growing on neutral soils. They have small clusters of bell-shaped flowers which hang down, which contrast well with other rhododendrons. Their rounded leaves makes them a great foliage plant all year, and softens the landscape in larger planting schemes. Some varieties can be shy to flower as a young plant, but will normally flower in the year after planting out.

'Yak' hybrids mainly flower in May, with a small rounded truss of flowers, often bright in colour when first opening, but always fading paler over the next couple of weeks. These are typically very tough plants, which are ideal for the front of border, or for more formal situations Alternatively, yak hybrids are suitable for growing in pots and containers; re-pot every 3 years for best performance. Most varieties will bud up and flower as a 3 litre plant.


They will take sun or shade, but dappled is best. Compact rhododendrons like moist acidic soil, with good drainage, and plenty of organic matter such as leaf-mould and added ericaceous compost. Plant no deeper than the top of the rootball, and dig in plenty of good ericaceous compost around the sides. For a guide to plant spacing, use the height we give in 10 years as a guide to the distance between each plant, so this is about 1 plant per m². Give a teaspoon of slow-release feed at the 3 litre size, rising to a small handful full for mature plants. They are not normally nibbled by deer and rabbits. Pruning is not recommended, but wayward shoots can be cut back straight after flowering to improve shape.

Please note: Most of these varieties are dome shaped plants, often wider than their height. Specimen size plants (eg 80-90cm) will be measured by their largest measurement which is typically the spread of the plant.


For further advice, For further advice, see here
Size Guide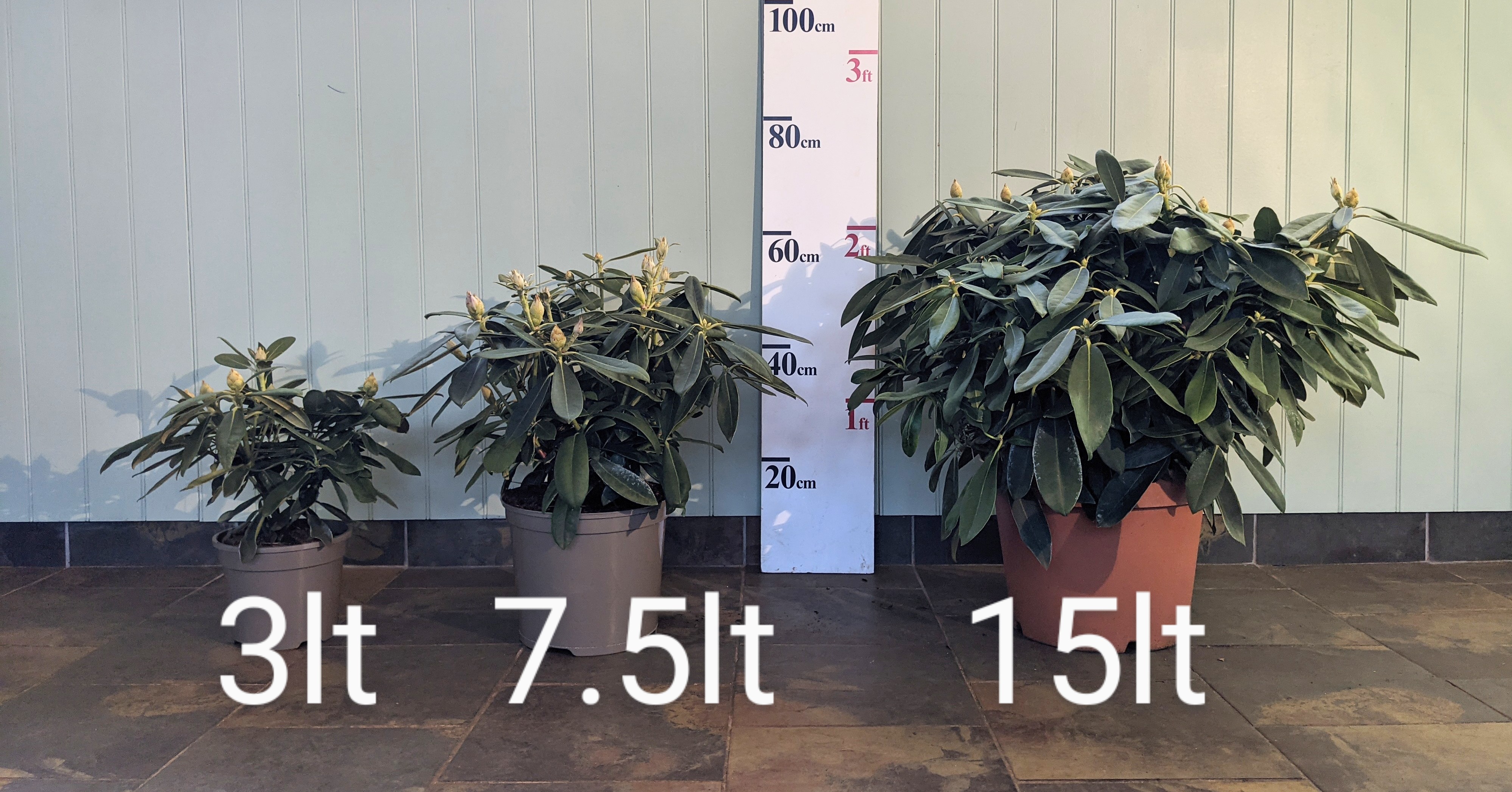 picture for example only
The Basics
Ideal soil
Acidic soil, good organic content, pH 4.5-6.0. Inkarho range of rhododendrons will tolerate soils up to pH7.5
Sun or Shade
Light dappled shade is best for most varieties.
Shelter
Refer to hardiness rating. Give young plants protection.
Site Selection
Avoid close to trees, roots, invasive weeds, walls, hot patios, dry banks and waterlogged soils. Do not use weed matting or stone mulch.
Plant spacing
Use the height shown in 10 years as a guide to the distance between each plant. Allow room for plant to fill out. If planting closer for instant impact, be prepared to move plants after a few years.
Compost
3 litre pot, dig in 10-20 litres of ericaceous compost.
7.5 litre pot, dig in 20-30 litres of ericaceous compost.
70-80cm specimen, dig in 60 litres of ericaceous compost.
100-120cm specimen, dig in 120 litres of ericaceous compost.
Planting depth
Plant high in the ground, with the top of the rootball visible.
Feeding
Slow-release ericaceous feed recommended in March and straight after flowering.
Mulch
Recommended every few years.
Water
The key ingredient! Keep moist all season, especially the critical time at end of June for flower bud initiation. Tap water is better than no water. Heavy dose at least once per week in dry weather.
Drainage
Ensure good drainage in winter, especially with yellow flowering varieties. Avoid waterlogged sites.
Pruning
Rhododendrons and Camellias: Not normally required. Tidy wayward shoots after flowering.
Evergreen azaleas and Bloombux can be clipped into a low hedge.
Magnolias and Acers: Formative pruning when young to shape into a tree or bush.
Deadheading
Remove old flower-heads, particularly on young or weak plants.
For further advice see here
Delivery & Returns
Our website calculates the delivery charge according to weight and delivery location throughout the UK. To see these charges, please enter your postcode at the checkout, and you will see the charge vary as you add more items to your wheelbarrow.
Please see here for delivery information
People who bought this also bought...
---
---
---