Dwarf Rhododendron Bloombux INKARHO
Item: IBLOOM

In stock

Flowering Month:
June

Flower Colour:
Pinky/White

Hardiness:
To -20 °C

Height After 10 Years:
50-75cm

Interesting Foliage:
No
Collect in Store
This item is available for collection.
Home Delivery
UK mainland delivery from £8.95

20 reviews
(H6) A wonderful flowering alternative to troublesome box hedging! Lots of clusters of soft pink flowers in June. The plant responds well to trimming after flowering. Height 50-75cm in 10 years. Easy to grow in most soils.
This superb new variety was raised by the INKARHO syndicate as 'Microhirs3' with PBR Plant Breeders Rights. It is suitable for growing on most garden soils, from very acidic up to pH7.5. It is grown under licence in Germany, and the first plants were released in 2014. It is a hybrid between two charming dwarf growing species, R. hirsutum x micranthum, which has produced a striking healthy and undemanding rhododendron with lovely flowers that are also attractive to bees and butterflies.
It takes trimming in its stride, so if you want to clip it after flowering, you can create any shape you want, including squares, balls and triangles, or simply trim into low hedges to go around your flower-beds. This plant avoids the awful box-blight, stays green when trimmed, and flowers beautifully, so it is a brilliant replacement for box hedging!
The Nugget sized plants are supplied in 10.5cm (4') diameter pots, and are nice and bushy with a height around 15cm (6'), often with flower buds. Ideal for planting in quantity.
Customer Reviews
By
Shirley Greatrex
on
9th June 2023
"These excellent plants make a very satisfactory replacement for Buxus plants devoured by Box moth larvae."

By
Jenny pulleyn
on
10th May 2023
"Good quality plant, now thriving in our garden."

By
Mairwen Kirwood
on
27th April 2023
"Good size plant with lots of flower buds. Looking forward to seeing them open."

By
GrahamWright
on
16th March 2023
"Another repeat order from Millais. Plants arrive well packaged, in good condition and are good value."

By
Graham Wright
on
6th October 2022
"These plants are excellent value for money, ordering on the website is straightforward, delivery is efficient and the plants arrive in excellent condition. A good shopping experience."

By
JeremyJohnWestonSpooner
on
14th June 2022
"Ordered dwarf rhododendron which we had originally sourced at RHS Wisley but could not get more there or anywhere else until we came across you online. The order was dealt with very eficirntly and quickly by you and the rhododendrons are in and thriving as a small border to our garden."

By
Barbara
on
4th May 2022
"These dwarf rhododendrons are brilliant - just right for a less acidic soil. I have bought these to line a path as they can be trimmed to shape, if necessary. They arrived promptly, were very well packed and in excellent condition. I can highly recommend Millais as have purchased other rhododendrons from them in the past, all of which have been excellent."

By
Tracy
on
17th May 2021
"Plants arrived in fabulous condition and packaging/delivery was faultless. Plants are now thriving in the garden."

By
BrigitteDell
on
9th January 2021
"healthy, ;lush little plants, can recommend "

By
JimFender
on
2nd November 2020
"I Very happy with the plants, the delivery d the service from Millais "

By
Elizabeth Harding
on
19th April 2020
"Very pleased with the plant and the service provided by the Nursery. The Bloombux has been planted and is flourishing "

By
Sarah Dack
on
27th March 2020
"larger plants than i was expecting! So very nice."

By
Selina Hughes
on
24th March 2020
"Superb little plants, I have planted them and they look fantastic. Loads of little flower buds on them so we are very excited to see them flower. Eventually I am hoping these little nuggets will grow and form a low hedge. As ever, great advice from the team at Millais about planting and looking after them going forward. I am sure I'll be back to buy more. "

By
Robert Williams
on
23rd January 2020
"Absolute top class,plants arrived in fantastic condition.These little wonders are covered in buds and are so healthy looking in the new planters.Will definitely be buying again from Millais Nurseries. "

By
Karen Clarke
on
1st January 2020
"Lovely plant, very good quality, prompt delivery, thank you"

By
Eliana Ord
on
5th November 2019
"I absolutely love these rhododendrons, I can't wait for the flowers to bloom. The plants arrived in perfect condition. "

By
Malcolm E. Smith Jr
on
18th October 2019
"Plants arrived in excellent condition and seem to be thriving. We are quite pleased with the result."

By
Angela
on
6th October 2019
"The plants arrived a very timely manner and were all in good condition when arrived, growing nicely in garden. Can't wait for them to get bigger. Would definitely recommend this nursery."

By
Lucy M Ashton
on
15th April 2019
"Loved the plants, all arrived in good condition and are now planted out, awaiting blooms! Good quick service and good value. Plants were described as Nugget size, but they were bigger than expected..thank you"

By
Beatrice Claire Potter
on
26th January 2019
"Again I have bought these rhododendrons as I feel they would be better suited to my soil than the "normal" ones. They are lovely low growing plants which I will order more of when I have had a chance to see how they fare in my soil."

Good to know
Tough alpine rhododendrons for the front of borders, or in containers, which mainly flower in April.

Most of these dwarf rhododendrons originate from alpine regions, and from the Himalayas at altitudes of 3000-5000 metres. They grow on scree, rocky ground and open mountains where although exposed, they have good drainage. Often they are covered with snow during the winter's which insulates them from the worst of the weather. They range from tiny gems such as Rhododendron keiskei 'Yaku Fairy', to larger growers up to heights of around 80 cm after 10 years. Being alpine plants, they prefer moist, cooler climates, and generally favour the cooler conditions of Northern England and Scotland. They will struggle on a hot sunny patio, and prefer a cooler spot out of direct sunlight. Dwarf rhododendrons are suitable for growing in pots and containers; re-pot every 3 years for best performance.

Flowers can vary from long tubular bells, to bell-shaped, and also flat faced. Leaves are generally small 10-20mm long, though the red R. repens hybrids can have leaves up to 50mm long. Most varieties will bud up and flower as a 3 litre plant.


If space permits, they look great planted in groups of three, and will merge to form a larger clump. Recommended plant spacing is 3 plants per square metre. They also grow well in pots, but keep them out of direct sunlight so that they stay cooler in summer. Dwarf rhododendrons like moist acidic soil, with good drainage, and plenty of organic matter such as leaf-mould and added ericaceous compost. Plant no deeper than the top of the rootball, and dig in plenty of good ericaceous compost around the sides. Dwarf rhododendrons may need protection from deer and rabbits. Pruning is not normally required, but wayward shoots can be cut back straight after flowering to improve shape.

Please note: Dwarf rhododendrons scorch easily with too much fertilizer. Give species no feed, and hybrids half a teaspoon of slow-release feed at the 3 litre size, rising to a tablespoon full for mature plants.


For further advice, For further advice, see here
Size Guide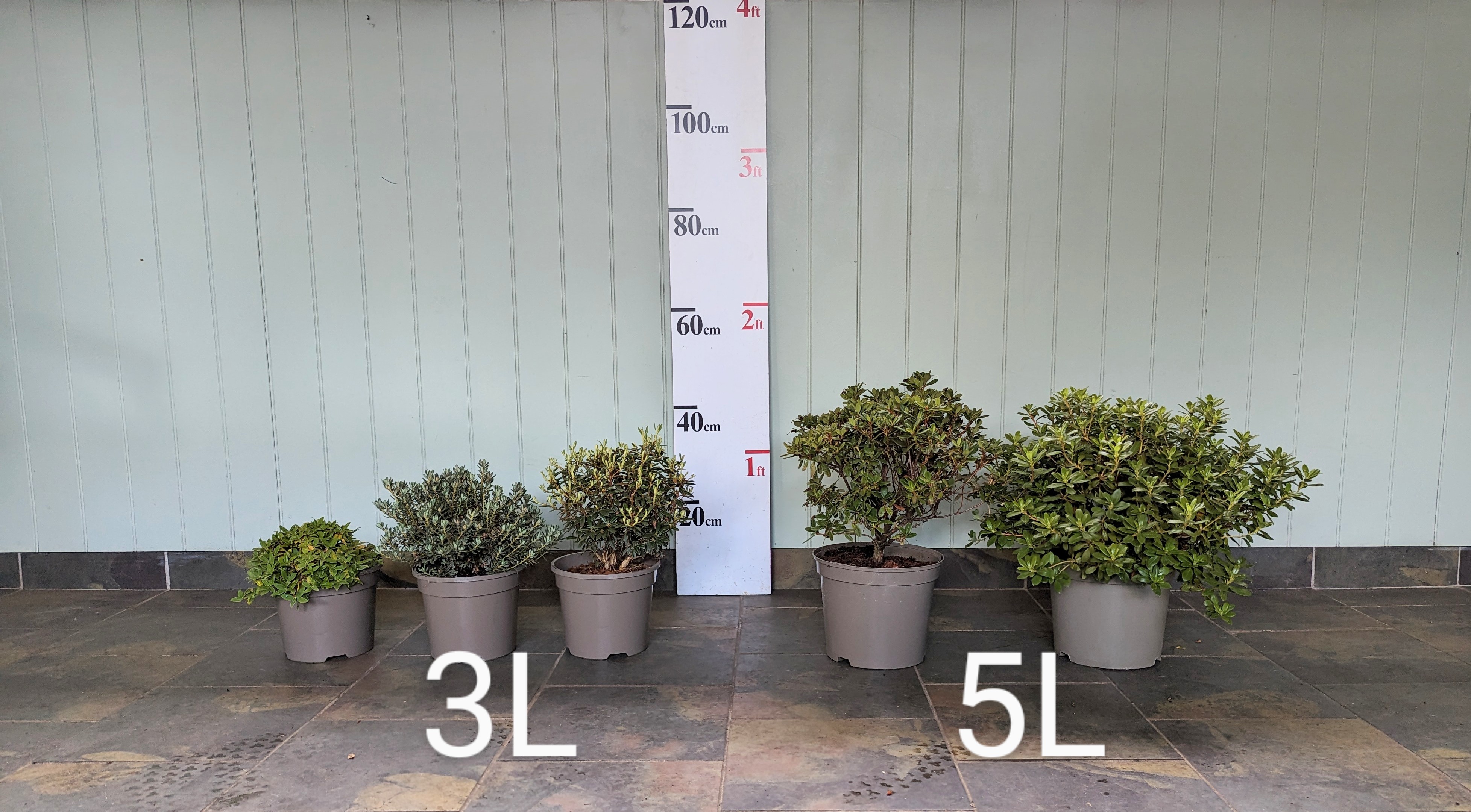 The Basics
Ideal soil
Acidic soil, good organic content, pH 4.5-6.0. Inkarho range of rhododendrons will tolerate soils up to pH7.5
Sun or Shade
Light dappled shade is best for most varieties.
Shelter
Refer to hardiness rating. Give young plants protection.
Site Selection
Avoid close to trees, roots, invasive weeds, walls, hot patios, dry banks and waterlogged soils. Do not use weed matting or stone mulch.
Plant spacing
Use the height shown in 10 years as a guide to the distance between each plant. Allow room for plant to fill out. If planting closer for instant impact, be prepared to move plants after a few years.
Compost
3 litre pot, dig in 10-20 litres of ericaceous compost.
7.5 litre pot, dig in 20-30 litres of ericaceous compost.
70-80cm specimen, dig in 60 litres of ericaceous compost.
100-120cm specimen, dig in 120 litres of ericaceous compost.
Planting depth
Plant high in the ground, with the top of the rootball visible.
Feeding
Slow-release ericaceous feed recommended in March and straight after flowering.
Mulch
Recommended every few years.
Water
The key ingredient! Keep moist all season, especially the critical time at end of June for flower bud initiation. Tap water is better than no water. Heavy dose at least once per week in dry weather.
Drainage
Ensure good drainage in winter, especially with yellow flowering varieties. Avoid waterlogged sites.
Pruning
Rhododendrons and Camellias: Not normally required. Tidy wayward shoots after flowering.
Evergreen azaleas and Bloombux can be clipped into a low hedge.
Magnolias and Acers: Formative pruning when young to shape into a tree or bush.
Deadheading
Remove old flower-heads, particularly on young or weak plants.
For further advice see here
Delivery & Returns
Our website calculates the delivery charge according to weight and delivery location throughout the UK. To see these charges, please enter your postcode at the checkout, and you will see the charge vary as you add more items to your wheelbarrow.
Please see here for delivery information
People who bought this also bought...
---
---
---