Tall Hybrid Rhododendrons: Page 3
Featured Products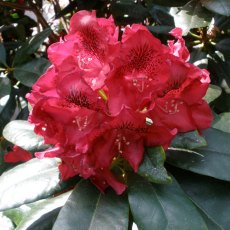 Rhododendron Cherry Kiss
NEW! An excellent new German plant with deep red flowers and lovely dark green glossy foliage. Glowing red funnel shaped flowers with wavy edging in a neat compact truss, with contrasting almost white stamens, and cream upward pointing anthers. Late May flowering. Equally striking are the thick dark very deep glossy leaves on a handsome plant broadly upright plant. A very hardy plant, claimed to...
from £28.95
Rhododendron Gomer Waterer AGM
Lovely rosy-lilac buds open to pinky-white flowers flushed mauve pink at the edges with a distinctive yellow-brown flare. This plant is a well proven older variety that flowers in early June. It certainly ranks as one of our favourites and is ideal for hedging and screening. If you have a difficult position this is definitely the plant for you. Vigorous and tolerating sun, heat and wind and shade,...
from £26.95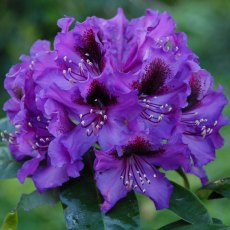 Rhododendron Orakel
(H7) NEW! Striking dark purple variety with a distinctive blackberry blotch. A tough variety from Hachmann's Nursery in Northern Germany, flowering in late May-early June, with good winter hardiness. Height 150-175cm in 10 years. Shortlisted for RHS Chelsea Flower Show Plant of the Year, 2016. One of 3 plants entered by Millais Nurseries that reached the top 20 selections of the Show! • Recommended...
from £28.95
---
---
---
---
---
---