Tall Hybrid Rhododendrons: Page 3
Featured Products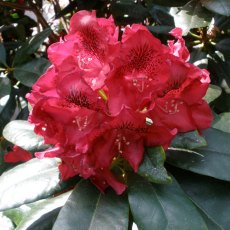 Rhododendron Cherry Kiss
NEW! An excellent new German plant with deep red flowers and lovely dark green glossy foliage. Glowing red funnel shaped flowers with wavy edging in a neat compact truss, with contrasting almost white stamens, and cream upward pointing anthers. Late May flowering. Equally striking are the thick dark very deep glossy leaves on a handsome plant broadly upright plant. A very hardy plant, claimed to...
from £28.95
Rhododendron Christmas Cheer AGM
One of our favourite plants! This one is pink in bud, opening to pretty blush pink flowers that fade almost to white in a small truss. One of the first to flower in March. This variety used to be forced in the greenhouse and presented as a magnificent Christmas table decoration; hence its name! It also makes a lovely gift for anyone interested in their garden. A very dense and tough plant. Height 140-160cm...
£28.95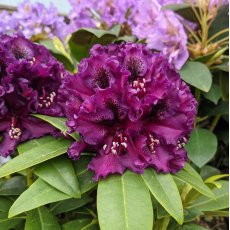 Rhododendron Dramatic Dark
(H6) NEW from Hachmann's. Dark violet flowers, with purple shades in centre, a black blotch, and contrasting white stamens on a tight rounded truss in late May. A compact well branched plant. Height 125-150cm in 10 years. The fascination of this new rhododendron comes from the perfectly shaped deep dark violet flowers with purple violet centre and a black eye. The roundish truss has more than 20...
£26.95
---
---