Deciduous Azaleas
Featured Products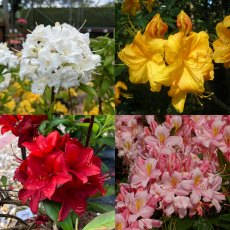 Deciduous Azalea Box Deal (4 x 5 litre plants)
This is a lovely collection of 4 strong growing Deciduous Azaleas for just £70.00; that's just £17.50 each! They are suitable for most garden situations, and are happy in plenty of sun or partial shade. We have selected 4 choice varieties to give a spread of bold colours for your garden. These Azaleas are in 5L pots and usually cost £21.95 each. The plants are typically 30-50cm tall...
Was £95.80
Now £70.00
Deciduous Azalea reticulatum
(H5) Dainty bright rose purple flowers on bare branches in April - May. The interesting leaves are ovate or rhombic in shape and held in whorls at the ends of the branchlets. They can be purplish when young. An relatively tender plant from Japan which requires a sheltered site especially from late spring frosts and when young. Good autumn leaf colour adds extra interest. This plant is rare and choice...
Was £18.95
Now £12.95
Deciduous Azalea luteum BOX DEAL (4 x 3 litre plants)
This is a BOX DEAL for 4 plants in 3 litre pots at £13.75 each. The same plants are £18.95 each when bought as singles, so this is better than 'buy 3 and get one free'! . Ideal for establishing a clump of lovely scented yellow azaleas. This offer is for online purchase only, but you can 'Click and Collect' at the checkout if you wish to collect from our nursery. Absolutely stunning...
Was £75.80
Now £55.00
---
---
---
---
---
---
---
---
---
---
---
---