Deciduous Azaleas: Page 2
Featured Products
Deciduous Azalea occidentale (Palomar 402)
A wonderful sweet-scented June flowering azalea with large white and pink flowers and an orange blotch. It has good autumn foliage colours. Selected from the best plants in Oregon and California, this is a stunning plant. Height 120-150cm in 10 years. occidentale has been used in the development of many beautiful scented deciduous azalea hybrids, but can be prone to mildew towards the end of the summer,...
£14.95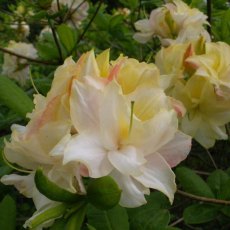 Deciduous Azalea Chelsea Reach AGM
(H6) A very attractive shade of cream flowers, which are flushed pink, during mid - late May. A large flowered Knap Hill azalea bred by Donald Waterer. Height 125-150cm in 10 years. Requires moist acid soils. • Recommended for large flowers.• Easy to grow.• Group:Deciduous Azalea (Knap Hill hybrid).• Parentage: 'Rozanne Waterer' x unknown.• Hybridization date:...
£14.95
Deciduous Azalea luteum
Absolutely stunning and still one of the most popular highly scented yellow azaleas. Flowering in May this deciduous azalea has striking autumn yellow and orange leaf colour. A must for every garden and one of our favourites. A lovely old species that has become naturalized in parts of the British Isles and was very important in the development of the Ghent hybrids. Height 120-150cm in 10 years. Some...
from £17.95
---
---
---
---
---
---
---
---
---
---
---
---
---
---