Deciduous Azaleas: Page 2
Featured Products
Deciduous Azalea Anneke
Large brilliant yellow flowers with vivid yellow spotting. The flowers are 80 to 100mm wide, 9 in each truss. Another of our favourites, this is a beautifully scented cultivar raised by Denny Pratt flowering in May-June. Height 140-160cm in 10 years. Requires a fairly sunny position. This plant was selected as outstanding by a well-known Dutch nurseryman, Fred de Jong, and named after his daughter...
from £21.95
Deciduous Azalea Persil AGM
Stunning large pure white flowers with a prominent deep yellow flare in the throat. Nicely scented and flowering in mid-late May this is one of our favourites. A striking Knaphill azalea. Height 120-150cm in 10 years. Recommended for striking scented flowers. Easy to grow. Group:Deciduous Azalea (Knaphill hybrid). Parentage: unknown. Hybridization date: pre 1950 (before 1926). Bred by: Waterer...
£18.95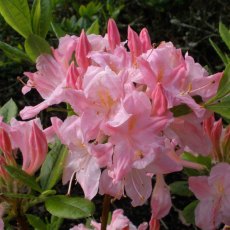 Deciduous Azalea Rosata AGM
(H6) Lightly scented pink flowers with darker veins and yellow orange speckling on the upper lobe. The pale flowers contrast nicely with deeper pink on the reverse. May flowering. A tough compact plant with small leaves. Height 125-150cm in 10 years.
£21.95
---
---
---
---
---
---
---
---
---
---
---
---
---