Evergreen Azaleas
Evergreen Azaleas, sometimes known as Japanese Azaleas, are as popular as ever, and are ideal for any size of garden from a window box to a large estate. Most Azaleas grow to 60-75 cm in 10 years, but look out for our speciality nakaharae Azaleas which are prostrate, and excellent for cascading over walls or tubs.
Featured Products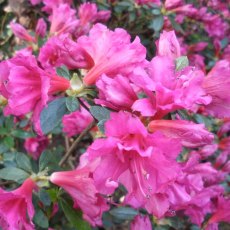 Evergreen Azalea Magic Flute
Prolific, vibrant purple-pink fluted, hose-in-hose (double) bell shaped flowers up to 40mm across. Flowering in May this is an exciting new introduction from the late George Hyde, an acknowledged Azalea breeder. It has an excellent compact and neat habit. Height 60cm in 10 years. Ideal for containers and small gardens. Easy to grow. Group:Evergreen Azalea (Hyde hybrid). Parentage: Unknown. Hybridization...
£11.95
---
---
---
---
---
---
---
---
---
---
---
---
---
---
---
---
---
---
---
---
---
---
---
---