Rhododendron suoilenhense (seedlings from AC 4458)
Item: SSUO

Currently Unavailable

Flowering Month:
April

Flower Colour:
White

Hardiness:
To -10 °C

Height After 10 Years:
150-175cm

Scent:
Not Scented

Interesting Foliage:
Yes
Collect in Store
This item is available for collection.
Home Delivery
UK mainland delivery from £8.95

17 reviews
Picture of a 3 litre plant for illustrative purposes only
(GRANDIA H4-5) Recently collected from Vietnam. Creamy white campanulate flowers with maroon basal flashes, in a rounded truss, April. Large foliage with indumentum on older leaves. Early intoductions to the UK have produced tall, majestic and fast growing trees when grown in good conditions. Full hardiness is not confirmed yet, but it seems to be hardier than other big leaved rhododendrons such as R. macabeanum or R. sinogrande. Height 150-175cm in 10 years. Requires moist acid soils.
First introduced by Alan Clark and Keith Rushforth in 1992, collected in Lao Cai province, Vietnam. Growing between 2200-3140 metres, mature plants reach heights of 12 metres.
Flowers are broadly tubular campanulate, 8 lobed, in a truss of 15 flowers. One of the distinguishing features of R. suoilenhense is the juvenile foliage differing from the foliage of a mature flowering plant. Juvenile foliage is widely oblong, rugose, chartaceous (papery) and glabrous, with a wavy appearance. Mature leaves are elliptic to oblanceolate, dark green, shiny and almost flat, with a suede like brown unistrate indumentum on the lower surface, and measure 20-35cm long by 9-16cm broad, with a rounded apex. Petiole is round.
Customer Reviews
By
Ryan
on
26th September 2023
"Excellent service fast delivery and well packed, The rhododendron suoilenhense is flawless along with the price very happy customer thank you to all involved much appreciated"

By
Andrew Bell
on
7th April 2023
"Lovely healthy plant. I feel fortunate to have been able to acquire this rare large leaf rhododendron."

By
MikeClayton
on
3rd April 2023
"Great plant well packed really impressive "

By
Karen Smith
on
30th March 2023
"Fantastic plant, good size & healthy."

By
Dale Attwood
on
28th March 2023
"Very beautiful, large plant. Arrived very quickly, well packaged. Thank you millais."

By
Simon Mabury
on
23rd March 2023
"Gorgeous healthy Rhododendron, arrived in perfect condition and exceeded expectations "

By
Cynthia
on
20th May 2022
"Plants arrived quickly and in perfect condition, thank you."

By
David
on
1st April 2022
"Excellent quality plant as usual "

By
JacquelineDoherty
on
30th March 2022
"Excellent plant received very quickly and very well packed. Plenty of buds and leaves currently being produced. Not yet planted as waiting for the weather and soil to warm up. Highly recommended."

By
SteveHowe
on
8th December 2021
"Good quality plant supplied"

By
Sheila
on
28th February 2021
"It's always a thrill to be able to buy these wonderful big leaf species. I hope more are in the offing."

By
peter
on
21st February 2021
"Very healthy plant received. This is my third plant from here thanks "

By
MarkBobin
on
16th February 2021
"Superb plant. Extremely happy and have planted out today"

By
SueSturdy
on
11th February 2021
"Nice healthy plant, can't wait to watch it mature."

By
Sheila
on
13th January 2021
"Another wonderful plant from Millais."

By
Sheila
on
20th September 2020
"I'm really delighted with this plant. Healthy and handsome. Thank you."

By
janniebloedcroeze
on
29th July 2020
"Always , we have ver fine rhododendrons of you .Top quality."

Good to know
Wonderful architectural plants with huge leaves up to 60cm long! These are choice woodland Rhododendrons needing the very best sheltered positions to allow them to grow to their full stature of up to 5 metres. As a bonus, flowering will typically start after 6 years, but can take up to 10 years. Big leaved Rhododendrons are among the more tender of our range, but are well worth trying if you have the correct conditions. They are best suited to sheltered woodland in the milder regions of the UK, though they can also be used as feature plants in sheltered courtyard gardens. Winter protection is recommended for young plants.

Rhododendrons like moist acidic soil, with good drainage, and plenty of organic matter such as leaf-mould and added ericaceous compost. Big-leaved species should be given the best planting positions, which are neither too wet nor too dry. For a guide to plant spacing, use the height we give in 10 years as a guide to the distance between each plant, or approximately 1 plant per 3m². Plant no deeper than the top of the rootball, and dig in plenty of good ericaceous compost around the sides. A teaspoon of slow release feed is sufficient for a 3 litre plant, rising to a small handful for a mature plant. Plants can be grown as single stemmed trees, or the leader can be pruned as a young plant to encourage a more bushy habit. You may need to give protection from deer rubbing their antlers on the stems


Please note: Big leaved Rhododendrons need to be sheltered from wind to prevent the large leaves being broken off at the petioles (stalks) during gales. Moisture control is critical to prevent moisture stress and misshapen leaves, so we do not recommend them being grown in pots.


For further advice, For further advice, see here
Size Guide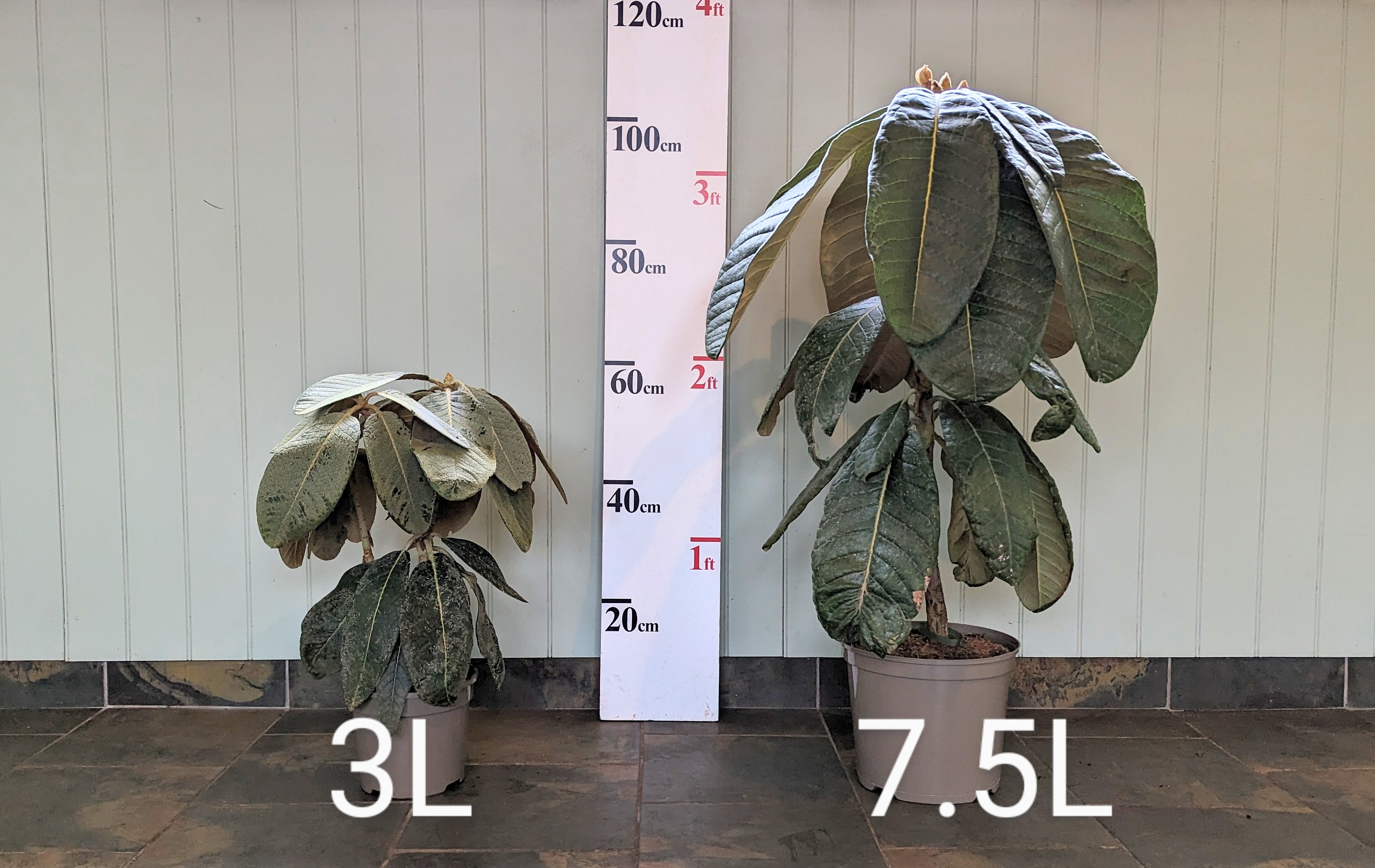 The Basics
Ideal soil
Acidic soil, good organic content, pH 4.5-6.0. Inkarho range of rhododendrons will tolerate soils up to pH7.5
Sun or Shade
Light dappled shade is best for most varieties.
Shelter
Refer to hardiness rating. Give young plants protection.
Site Selection
Avoid close to trees, roots, invasive weeds, walls, hot patios, dry banks and waterlogged soils. Do not use weed matting or stone mulch.
Plant spacing
Use the height shown in 10 years as a guide to the distance between each plant. Allow room for plant to fill out. If planting closer for instant impact, be prepared to move plants after a few years.
Compost
3 litre pot, dig in 10-20 litres of ericaceous compost.
7.5 litre pot, dig in 20-30 litres of ericaceous compost.
70-80cm specimen, dig in 60 litres of ericaceous compost.
100-120cm specimen, dig in 120 litres of ericaceous compost.
Planting depth
Plant high in the ground, with the top of the rootball visible.
Feeding
Slow-release ericaceous feed recommended in March and straight after flowering.
Mulch
Recommended every few years.
Water
The key ingredient! Keep moist all season, especially the critical time at end of June for flower bud initiation. Tap water is better than no water. Heavy dose at least once per week in dry weather.
Drainage
Ensure good drainage in winter, especially with yellow flowering varieties. Avoid waterlogged sites.
Pruning
Rhododendrons and Camellias: Not normally required. Tidy wayward shoots after flowering.
Evergreen azaleas and Bloombux can be clipped into a low hedge.
Magnolias and Acers: Formative pruning when young to shape into a tree or bush.
Deadheading
Remove old flower-heads, particularly on young or weak plants.
For further advice see here
Delivery & Returns
Our website calculates the delivery charge according to weight and delivery location throughout the UK. To see these charges, please enter your postcode at the checkout, and you will see the charge vary as you add more items to your wheelbarrow.
Please see here for delivery information
People who bought this also bought...
---
---
---