Compact Rhododendrons: Page 2
Featured Products
Rhododendron yakushimanum 'Koichiro Wada' AGM
Pink in bud opening to delightful white bell shaped flowers in May that have the appearance of apple blossom. Koichiro Wada has silvery new growth which turns dark glossy green, with dense brown indumentum underneath the leaf. There is a distinctive white covering (tomentum) on the top of the leaves. Height 50-75 cm in 10 years. This is generally accepted to be the best form of yakushimanum, selected...
from £23.95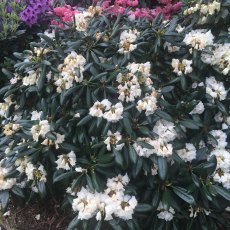 Rhododendron Rexima
(H5) An interesting foliage plant, (R. yakushimanum x rex). Lilac pink in bud, opening white with a dark red basal blotch and markings in May. Large dark green leaves with brown indumentum on the undersides, which has been inherited from the big leaved R. rex, but growing in a compact habit due its yakushimanum parentage. Height 100-125cm in 10 years. • Ideal for containers and small gardens.•...
from £19.95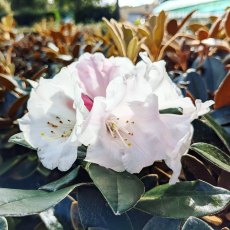 Rhododendron Queen Bee
**** As launched by us at Chelsea Flower Show 2019**** (H5) Rosy-pink in bud, opening to pinky white bell shaped flowers in April. A wonderful foliage plant with lovely fawn indumentum in June-July, turning brown underneath and silvery on top. Height 50-75cm in 10 years. A beautiful foliage rhododendron with a very promising future. This combines some of the lovely fawn indumentum from R. tsariense,...
from £21.95
---
---
---
---
---
---
---
---
---
---
---
---
---
---