Compact Rhododendrons: Page 2
Featured Products
Rhododendron roxieanum var. oreonastes AGM
Attractive white flowers flushed pink with delicate purple spotting in April - May. This is a wonderful choice foliage plant with dark narrow linear leaves that have an interesting buff indumentum on the underside. This is one of the species most prized by Rhododendron collectors, due to its fantastic foliage. However it can be shy to flower in some years and it dislikes fertilizer. Recommended...
£24.95
Rhododendron Queen Bee
**** As launched by us at Chelsea Flower Show 2019**** (H5) Rosy-pink in bud, opening to pinky white bell shaped flowers in April. A wonderful foliage plant with lovely fawn indumentum in June-July, turning brown underneath and silvery on top. Height 50-75cm in 10 years. A beautiful foliage rhododendron with a very promising future. This combines some of the lovely fawn indumentum from R. tsariense,...
from £21.95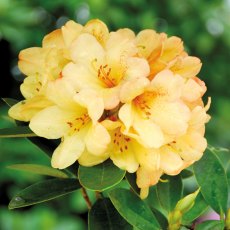 Rhododendron Moon Fire
(H6) Another outstanding plant Bred by Tijs Huisman, the flower buds open pinky orange turning to a warm golden yellow flower with dark red spots in the middle of the upper lobe, flowering May into June. This plant forms a tight compact bush, with the new growth coming through a lovely bronze red before turning a dark green. Height and width 100 – 125cm in 10 years • Ideal position: Dappled...
£26.95
---
---
---
---
---
---
---
---
---
---
---
---